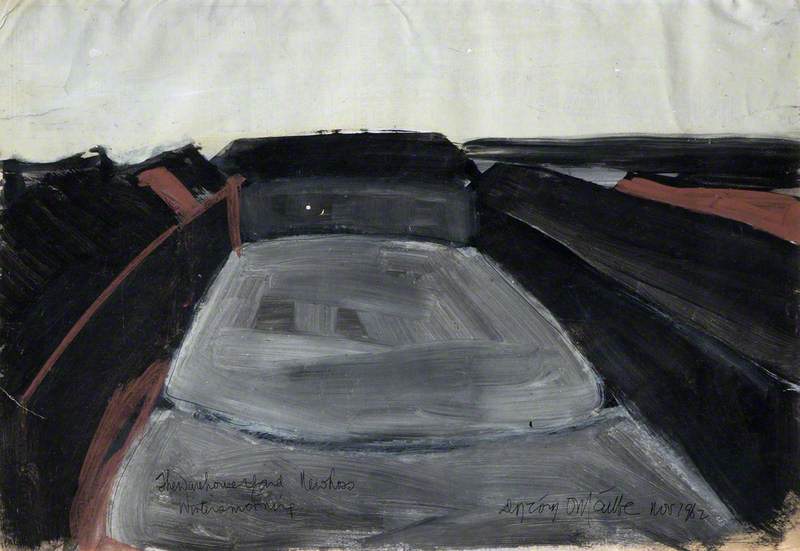 © the artist's estate. Photo credit: National Museums NI
Painter whose work from the early 1960s tended towards abstraction, born in Callan, County Kilkenny, Ireland. He worked in a bank, 1933–58, apart from Army service at the beginning of the 1940s. He produced his first oil painting in 1945. Ten years later, while painting on holiday in St Ives, he became acquainted with Peter Lanyon, Bryan Wynter and other notable artists. After O'Malley was forced to retire from the bank because of ill-health in 1958, in 1960 he settled in St Ives and worked there for many years before eventually returning to Ireland. In 1981 was awarded the Douglas Hyde Gold Medal by Irish Arts Council, one of several such honours. In 1993, he was invested by the Irish president Mary Robinson with the Aosdana title of Saoi, granted to only five living artists.
Read more
O'Malley had early one-man shows at Sail Loft Gallery, St Ives, 1961 and 1962. After a string of British and Irish exhibitions, in 1984 had an Ulster Museum, Belfast, retrospective which toured to Dublin and Cork, with a retrospective of paintings 1950–95 at Coram Gallery, 1996. In 2001, The Irish Museum of Modern Art, Kilmainham, showed work by O'Malley from the McClelland Collection. That museum gave O'Malley a retrospective in 2005, Tate St Ives showing a small selection of the pictures from it in 2006. Was married to the painter Jane O'Malley.
Text source: 'Artists in Britain Since 1945' by David Buckman (Art Dictionaries Ltd, part of Sansom & Company)