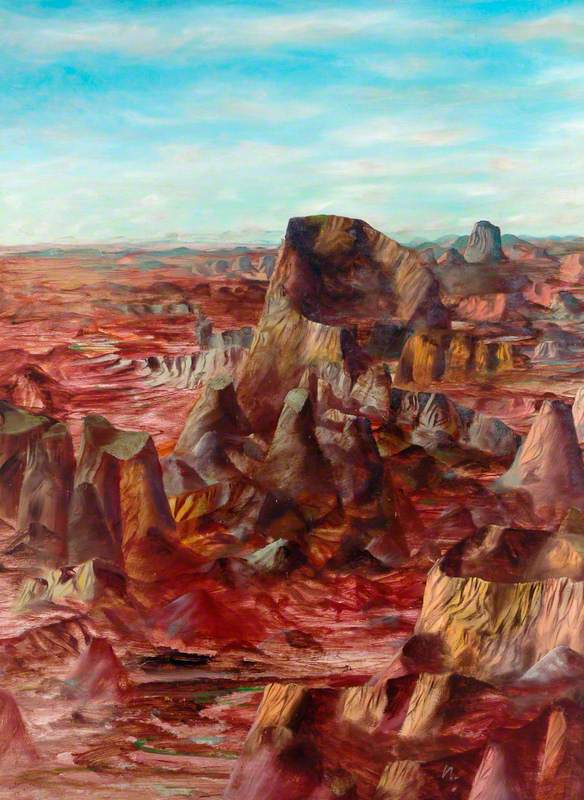 © The Sidney Nolan Trust. All rights reserved, DACS 2022. Photo credit: The University of York
(b Melbourne, 22 Apr. 1917; d London, 28 Nov. 1992). The most internationally famous of Australian painters. He turned from odd jobs to art after attending night classes in Melbourne, and became a full-time painter when he was 21. His early work was abstract, but while serving in the Australian army (1941–5) he painted a series of landscapes of the Wimmera District of Victoria that gave the first unmistakable signs of the originality of his vision, capturing the heat and emptiness of the bush. In 1946 he began a series of paintings on the notorious bushranger Ned Kelly, who had become a legendary figure in Australian folk history, and it was with these works that he made his name. He returned to the Kelly theme throughout his career and he also drew on other events from Australian history.
Read more
In such works Nolan created a distinctive idiom to express this novel Australian subject matter and memorably portrayed the hard, dry beauty of the desert landscape. Technically, his work is remarkable for the lush fluidity of his brushwork and sometimes he painted on glass or other smooth materials. Nolan first visited Europe in 1950 and from 1955 he lived mainly in England. He also worked in Paris and the USA and travelled extremely widely (the Australian airline Qantas commissioned him to fly around the world gathering material for a series of paintings to decorate their offices). Apart from Australian themes, he was inspired by journeys to Antarctica and New Guinea, for example, as well as by literary subjects such as the legend of Leda and the Swan.
Text source: The Oxford Dictionary of Art and Artists (Oxford University Press)