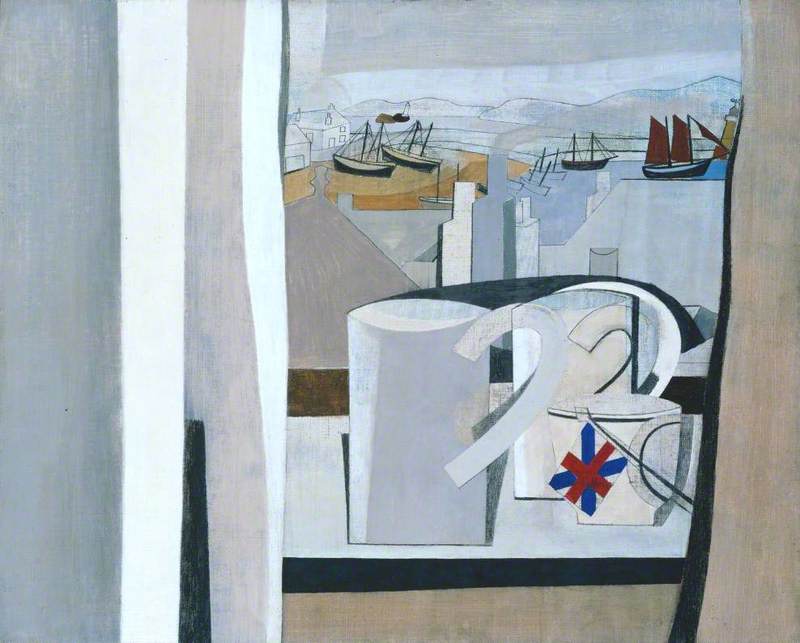 © Angela Verren Taunt. All rights reserved, DACS 2023. Photo credit: Tate
(b Denham, Buckinghamshire, 10 Apr. 1894; d London, 6 Feb. 1982). British painter and maker of reliefs, one of his country's most distinguished pioneers of abstract art. From his father, Sir William Nicholson, he inherited a feeling for simple and fastidious still lifes, which with landscapes made up the bulk of his early work. In 1921, on a visit to Paris, he first saw Cubist paintings and in the following years his still lifes showed a personal response to the standard Cubist repertoire of objects such as jugs and glasses, which he arranged as flat shapes on the picture plane. Nicholson was also influenced by the naive painter Alfred Wallis, whose work he discovered in 1928 and whose roughly textured surfaces he emulated. From the early 1930s he turned to abstraction, partly because of the influence of Barbara Hepworth (they shared a studio from 1932 and married in 1938) and partly because of the impact of several visits he made to Paris at this time.
Read more
He joined the Abstraction-Création association in 1933 and became friendly with several leading avant-garde artists, Mondrian's work in particular coming as a revelation to him. In 1933 he made his first abstract relief and in 1934 his first strictly geometrical 'white relief' in painted wood, using only straight lines and circles. Such works were the most uncompromising examples of abstract art made by a British artist up to that date (White Relief, 1935, Tate, London). He also did paintings in a similar intellectual vein but with a poetic refinement of colour that offsets their severity of composition (Painting, 1937, Tate). By this time Nicholson was recognized as being at the forefront of the modern movement in England. He was a member of Unit One (1933), and one of the editors of Circle (1937). In 1939 he and Hepworth moved to Cornwall, where they became the nucleus of the St Ives School. They divorced in 1951 and in 1958 Nicholson settled in Switzerland with his third wife, the Swiss photographer Felicitas Vogler. After the Second World War he won an international reputation, accompanied by many awards. He returned to England in 1971. His late work moved freely between abstraction and figuration and included large, free-standing reliefs, notably one in marble in the garden of Sutton Place, Surrey (1982). Nicholson's first wife, Winifred Nicholson (1893–1981), was a painter of distinction. She is best known for her flower paintings, but she also did other subjects and abstracts, all her work showing her joy in colour and light.
Text source: The Oxford Dictionary of Art and Artists (Oxford University Press)