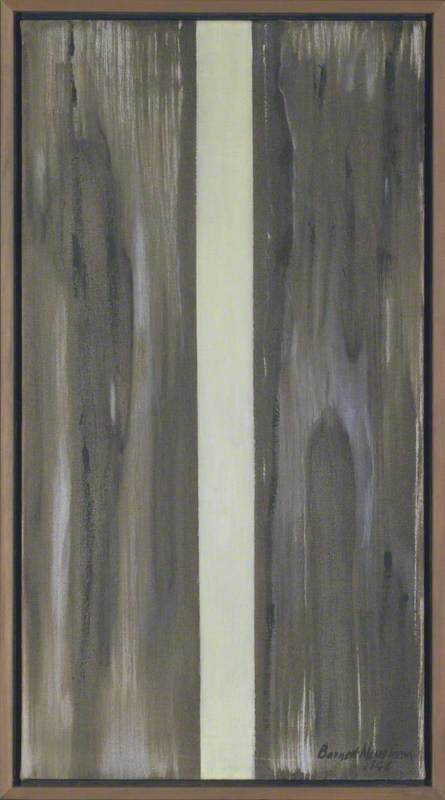 © ARS, NY and DACS, London 2021. Photo credit: Tate
(b New York, 29 Jan. 1905; d New York, 4 July 1970). American painter (and latterly sculptor), one of the leading figures of Abstract Expressionism and one of the initiators of Colour Field Painting. During the 1930s he had a hard time financially: the Depression almost ruined his father's clothing business (which Newman ran for a while), and unlike most American painters of the time he did not work for the Federal Art Project, being unwilling to accept state handouts. Part of his living came from teaching art in high schools. He destroyed most of his early work and stopped painting in the early 1940s, but he began again in 1944, and in the second half of the 1940s evolved a distinctive style of mystical abstraction—he considered 'the sublime' to be his ultimate subject matter.
Read more
The work with which he announced this style was Onement I (1948, MoMA, New York), a monochromatic canvas of dark red with a single stripe of lighter red running down the middle. Such stripes (or 'zips' as he preferred to call them) became a characteristic feature of his work. By the time he painted Onement I Newman already had a reputation as a controversialist and a spokesman for avant-garde art (in catalogue essays and articles in journals), but he had a hard struggle to make his name as a painter. His first one-man exhibition, at the Betty Parsons gallery in 1950, was coolly received by critics and fellow artists (only one work sold—to a friend of his wife's), and by the mid-1950s his very spare style had separated him from the predominantly gestural idiom of his colleagues. For a time he became a somewhat marginalized figure and he stopped painting in 1956. He had a heart attack in 1957, but in the following year a resurgence began with a series of paintings in black and white, and in the last decade of his life his output and his reputation soared. In the 1960s he began making steel sculptures featuring slender shafts recalling the vertical strips of his paintings (Broken Obelisk, 1963–9, MoMA) and in his late years he also experimented with shaped canvases, painting several triangular pictures.
Text source: The Oxford Dictionary of Art and Artists (Oxford University Press)