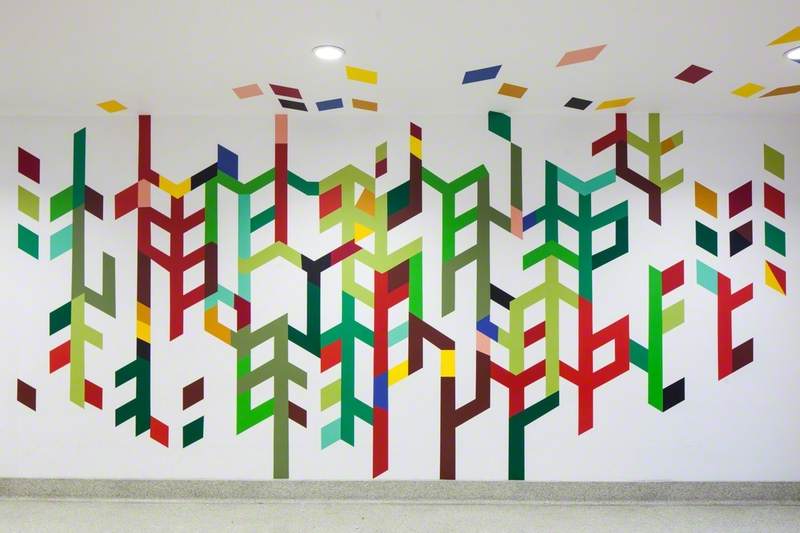 © Shona Illingworth. All rights reserved, DACS 2021 & Henna Nadeem. Photo credit: Great Ormond Street Hospital
Artist, photographer and lecturer, born in Leeds, Yorkshire, who did a foundation course at Harrogate College of Art & Design, 1984–5; graduated with honours in fine art, John Moores University, Liverpool, 1985–9; gaining her master's from the Royal College of Art, 1991–3. Patterns, appropriated images, landscape, collage, architecture and design were important in Nadeem's output. "I work mainly with collage, using a physical cutting and gluing process. Each collage is a combination of several images, selected directly from books, magazines and posters, united by collaging them together in carefully cut, intricate designs. The patterns and motifs have been gathered largely from Islamic cultures, but later work includes references from other cultural sources: Japanese and Moorish plus ones from less easily identifiable origins.
Read more
" Nadeem had a residency at Camden Arts Centre in 1997 and a photography commission/residency at the University of Sunderland & Autograph ABP, 2003–4. She held a number of part-time and visiting lectureships, latterly including the Universities of Portsmouth, Brighton, Greenwich, Sunderland and Leeds. Among her later mixed exhibitions were Pattern Crazy, Crafts Council, 2002; Reduced, Century Gallery, 2003; I want! I want!, Northern Gallery for Contemporary Art, Sunderland, and Towner Art Gallery, Eastbourne, 2003–4; and Ffi – Fotografie Forum International, 2005. There were solo exhibitions Billy Bragg at Project Art Space, Dublin, Ireland, and trees water rocks at Piccadilly Circus Underground station, both 2004, and in 2005 Newlyn Art Gallery showed her collages. Among Nadeem's commissions were Screen, steel gate and railings, Brick Lane, 1997; Indoor Garden, photo installation, Regent's Park Medical Centre, 1998; Entrance garden, linoleum floor design, hostel, Slough, 1999; and Sky Pavilion, steel canopy and seating, Limehouse Fields Estate, Stephney, working with architect David Adjaye, 2000. Nadeem lived in north London.
Text source: 'Artists in Britain Since 1945' by David Buckman (Art Dictionaries Ltd, part of Sansom & Company)