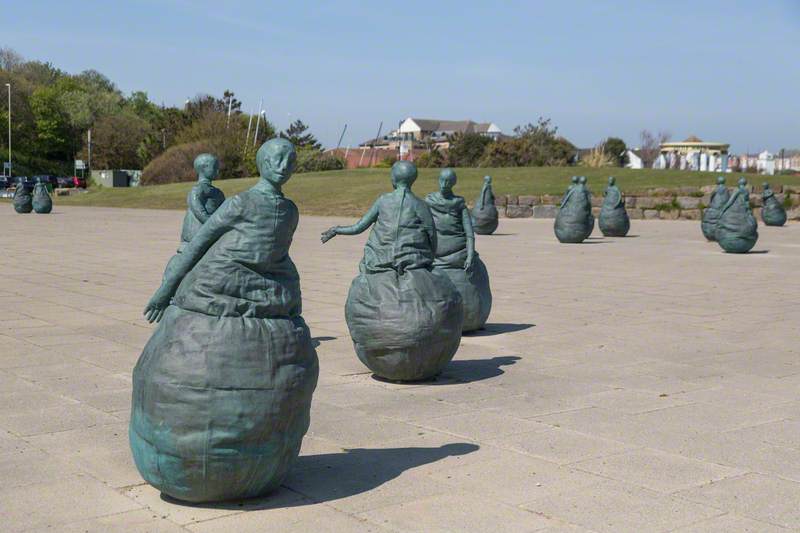 © DACS 2021. Photo credit: George Ledger / Art UK
Artist, born in Madrid, Spain, known mainly as a sculptor, but whose works ranged from drawing and writing to musical collaborations and installations. Storytelling was a theme in an output inspired by influences as diverse as Baroque architecture and classic statuary to the films of Luis Buñuel and the writings of Robert Louis Stevenson. An early interest in art was fostered by his tutor, the writer Santiago Amon. In the early 1970s Muñoz spent a short time in London, returning to attend the Central School of Art and then, with a British Council scholarship, to study printmaking at Croydon School of Art. He developed a lasting taste for London where he met his wife, the sculptor Cristina Iglesias. In 1981, on a Fulbright Fellowship, he attended the Pratt Graphic Center in New York and began exhibiting internationally in group and solo shows.
Read more
Muñoz's deft handling of space and object was evident in the Conversation Pieces of the 1990s, groups of sculpted figures engaged in enigmatic dramas. Collaborations were a strong feature of his career: in 1992, he worked with the composer Gavin Bryars on A Man in a Room, Gambling, pieces for radio; his 1996 collaboration with his friend John Berger, Will it be a Likeness?, won the Hörspiel de Jahres award for the best radio programme in Germany. By 1997, Muñoz's reputation was established by his work at the Venice Biennale and his major installation, A Place Called Abroad, at the Dia Center for the Arts, New York. In 2000, Muñoz was asked to create his pre-eminent installation, for the Unilever commission at Tate Modern. Double Bind, which opened in 2001, exploiting the turbine hall's enormous height, examined ideas about life in cities' margins.
Text source: 'Artists in Britain Since 1945' by David Buckman (Art Dictionaries Ltd, part of Sansom & Company)