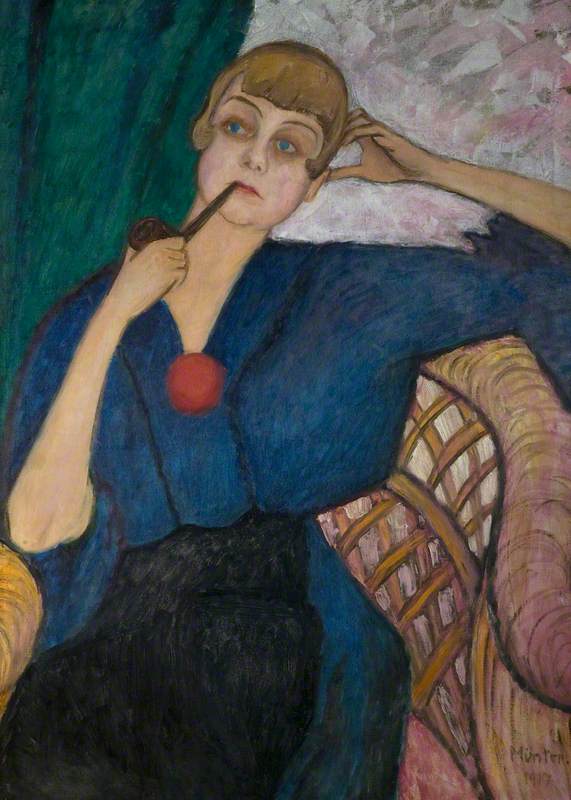 © DACS 2021. Photo credit: Leicester Museums and Galleries
German painter, born in Berlin. She was a talented pianist before she took up painting. In 1902 she became a pupil of *Kandinsky at the *Phalanx School in Munich and she was his lover until the First World War parted them in 1914 (he returned to Russia; she went to Switzerland). With Kandinsky and *Jawlensky she helped to found the *Neue Künstlervereinigung München in 1909 and she contributed to many of the most significant avant-garde exhibitions in Germany up to the First World War, including both *Blaue Reiter exhibitions.
Read more
After the war she travelled a good deal before settling in Murnau (where she had previously lived with Kandinsky) in 1931. Their relationship had often been a difficult one (Kandinsky felt guilty because he was married and could not obtain a divorce), but she revered him as a man and artist: 'He was a holy man…He loved, understood, treasured, and encouraged my talent.' Stylistically, however, her work is closer to Jawlensky. Landscape was her chief subject. She lived a secluded life after her return to Murnau, but in 1957, to mark her 80th birthday, she presented 120 paintings by Kandinsky (as well as sixty of her own and many by other leading contemporaries) to the city of Munich. This superb collection is now in the Lenbachhaus.
Text source: A Dictionary of Modern and Contemporary Art (Oxford University Press)