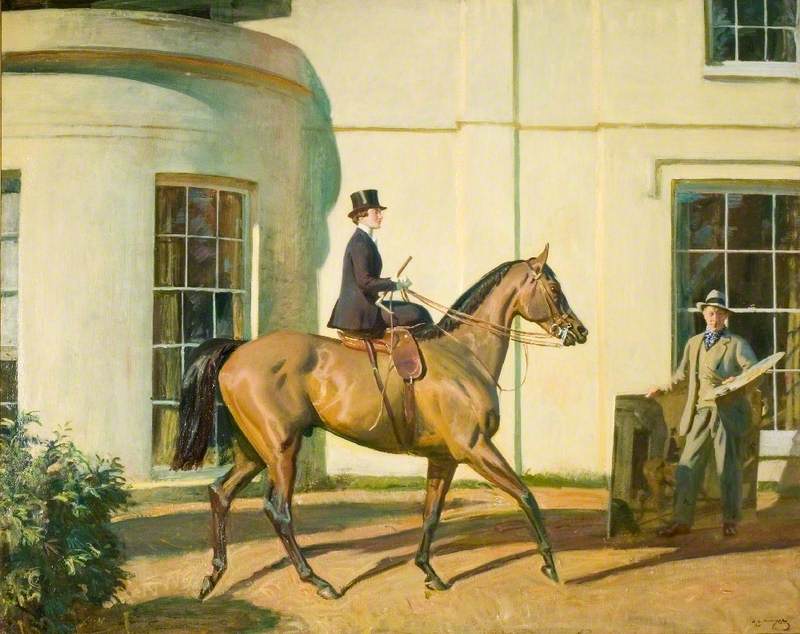 © The Munnings Art Museum. Photo credit: The Munnings Art Museum
Born in Mendham, Suffolk on 8th October 1878; died in Dedham, Essex on 17th July 1959. English Impressionistic painter and occasional sculptor.
Read more
Alfred Munnings was the son of an East Anglian mill owner. He began his career as an apprentice lithographer in Norwich before rising through the ranks of the Royal Academy to become its President in 1944.

At the age of 20, he was blinded in his right eye, however he was undeterred, painting paint ponies, rural life, travelling communities and idyllic landscapes. His paintings capture the British countryside before widespread industrialisation and urbanisation.

His paintings made in France at the end of the First World War depict the close relationship between man and horse, such as the Canadian Cavalry Brigade watering their horses or the Canadian Forestry Corps hard at work in the huge forests of war-torn France. These works brought him international acclaim.

The second half of his life and career witnessed Munnings painting wealthy patrons on horseback. Royalty, racehorse owners and hunters clamoured for portraits. This was a profitable time for Munnings, now living in a 'Gentleman's Residence' on the Essex Suffolk border. However, during this time, he was tormented by the constraints placed upon his art by the demands of his patrons.

Following his retirement as President of the Royal Academy, in 1949, he indulged himself once again in painting his beloved countryside and colourful, animated pictures of racing at Newmarket.
Text source: The Munnings Art Museum