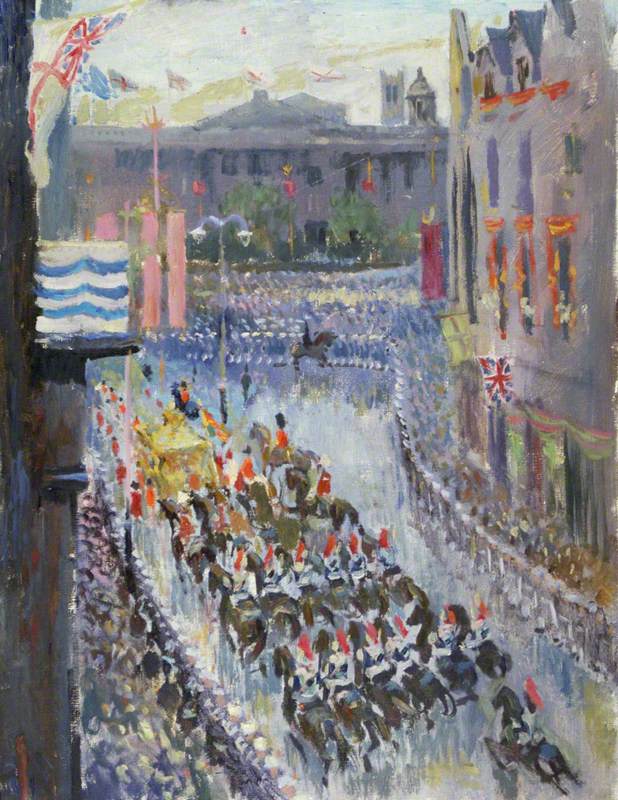 © the artist's estate. Photo credit: Government Art Collection
Illustrator, printmaker, painter and teacher, born in Sheffield, Yorkshire. He attended the College of Art there while still a schoolboy and had an exhibition at the Hibbert Brothers' Gallery in 1933 which made him a local celebrity. Won a scholarship to Royal College of Art which he went to in 1934, having taught for a year in Sheffield; he also taught briefly at Camberwell School of Arts and Crafts in the late-1930s. After war service, during which he was in camouflage and intelligence, Mozley became a prolific artist, a master of many techniques. He finished hundreds of book jackets; did film posters for Alexander Korda; completed Festival of Britain murals in 1951; and illustrated a number of books, including work for the Folio Society and Limited Editions Club.
Read more
In 1979 his drawings and paintings of Venice were exhibited at Somerset House, to aid the Venice in Peril fund, and he had a restrospective show at the King Street Gallery. Mozley's watercolours and lithographs were displayed at the Barbican Centre library and Henry Dyson organised an exhibition at Grey College, University of Durham, both 2002, with a Barbican library retrospective in 2005. Mozley was noted for his deft figure studies and caricatures, which he could complete at great speed. Mozley was a fiery character with a dislike of commercial galleries, so much of his non-illustrative work did not get shown in his lifetime. Died in Kew, Surrey.
Text source: 'Artists in Britain Since 1945' by David Buckman (Art Dictionaries Ltd, part of Sansom & Company)