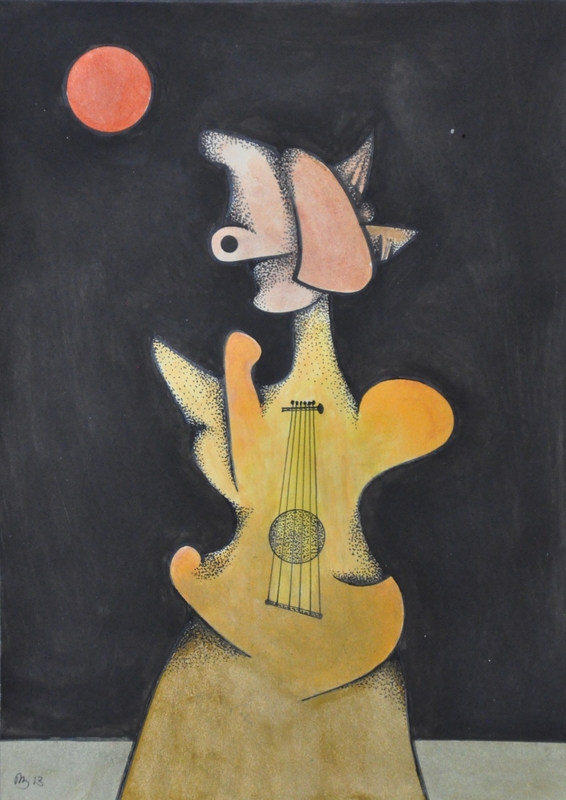 © Desmond Morris. Photo credit: The Reiff Collection
Writer and broadcaster on animal and human behaviour and Surrealist painter, born in Purton, Wiltshire. Morris graduated with a science degree from Birmingham University, gained his doctorate at Oxford University and did post-doctoral research at the Department of Zoology at the University, 1954–6. He went on to hold a number of notable academic and media positions, including curator of mammals at Zoological Society of London, 1959–67; director, ICA, 1967–8; and research fellow at Wolfson College, Oxford, 1973–81. He made a national name with the book The Naked Ape, 1967, and appeared on television programmes such as The Animals Roadshow. Among his books were The Biology of Art, 1962. The book The Secret Surrealist, 1987, coincided with a Mayor Gallery show of his work.
Read more
He also showed on the continent and in America and was included in The Birmingham Seven at John Bonham, Murray Feely Fine Art, 1991. Swindon Museum and Art Gallery gave him a retrospective in 1976 and Mayor Gallery another in 1997. A show there in 2002 launched Silvano Levy's Desmond Morris – Analytical Catalogue Raisonné 1944–2000, and in 2004 Mayor Gallery showed Morris's Recent Paintings and A Lost World, Sketches for a Bestiary 1960. Lived in London.
Text source: 'Artists in Britain Since 1945' by David Buckman (Art Dictionaries Ltd, part of Sansom & Company)