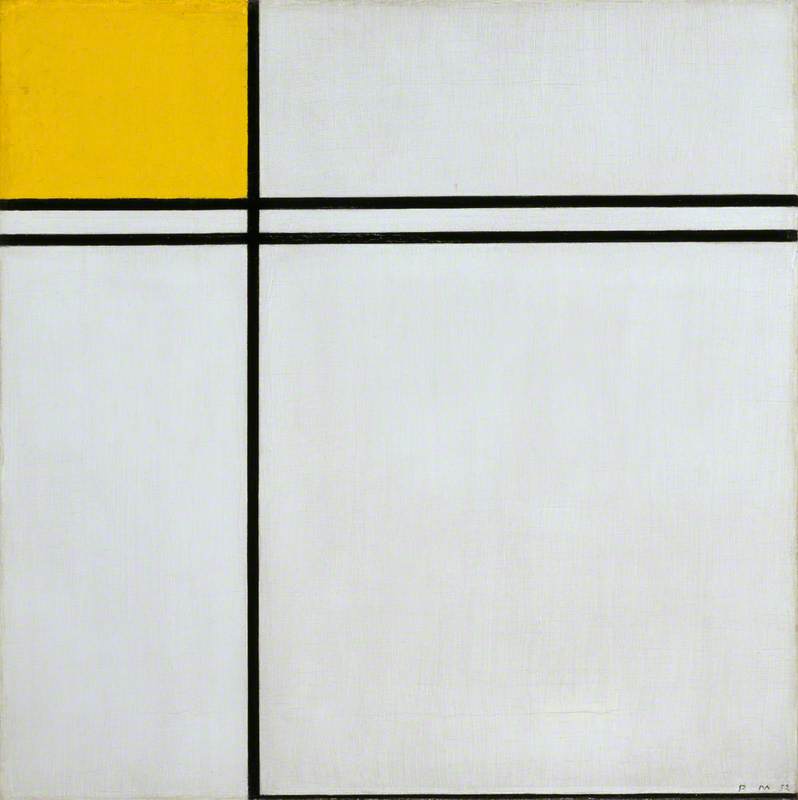 Photo credit: National Galleries of Scotland
(b Amersfoort, 7 Mar. 1872; d New York, 1 Feb. 1944). Dutch painter, one of the most important figures in the development of abstract art. His early paintings were naturalistic and direct, often delicate in colour, but between 1907 and 1910 his work took on a Symbolist character, partly under the influence of Toorop and perhaps partly owing to his conversion to Theosophy. Between 1912 and the outbreak of the First World War in 1914 he divided his time between Paris and the Netherlands, and in this period he was strongly influenced by Cubism, painting a series of pictures on the theme of a tree in which the image became progressively more fragmented and abstract (Flowering Apple Tree, 1912, Gemeente Mus., The Hague). By 1914 he had virtually eliminated curved lines from his work, using a structure that was predominantly horizontal and vertical, with the merest suggestion of natural forms underlying the patterning.
Read more
In 1915 he met Theo van Doesburg, and two years later he joined him in founding the association De Stijl; it promoted a new kind of rigorously geometrical abstract painting of which Mondrian became the main exponent. In this style, which he named Neo-Plasticism, he limited himself to straight lines and basic colours to create an art of great clarity and discipline that he thought reflected the laws of the universe, revealing immutable realities behind the ever-changing appearances of the world. Typically he used a bold grid of black lines (all completely straight and either strictly horizontal or strictly vertical) to form an asymmetrical network of rectangles of various sizes that were painted with a narrow range of colours (the three primaries—blue, red, and yellow—plus black, white, and initially grey, although this was later dropped). From 1919 to 1938 Mondrian lived in Paris, where in 1931 he joined the Abstraction-Création group. For many years he had struggled to earn a living, but in the 1920s he gradually became known to an international circle of admirers, including the American Katherine Dreier. In 1938 he left Paris because of the threat of war, and for the next two years he lived in London, near Naum Gabo and Ben Nicholson. After the house next door to his studio was hit by a bomb, he moved to New York in 1940 and spent his remaining years there, adapting well to his new home even though he was now almost 70. In America he developed a more vibrant style, with syncopated rhythms reflecting his interest in jazz and dancing (Broadway Boogie-Woogie, 1942–3, MoMA); he was noted for his immaculate tidiness and rather fussy lifestyle, but he had a passion for social dancing and took lessons in fashionable steps. His enormous influence was not limited to artists whose style and aesthetic outlook were similar to his own. He also had a powerful impact on much industrial, decorative, and advertisement art from the 1930s onwards; indeed Ian Dunlop writes that 'it is no exaggeration to say that his effect on the look and style of contemporary life has been greater than that of any modern artist, even of such supreme masters as Matisse and Picasso' (Piet Mondrian, 1967). This influence was spread by his writings (including numerous articles in the periodical De Stijl) as well as his paintings.
Text source: The Oxford Dictionary of Art and Artists (Oxford University Press)