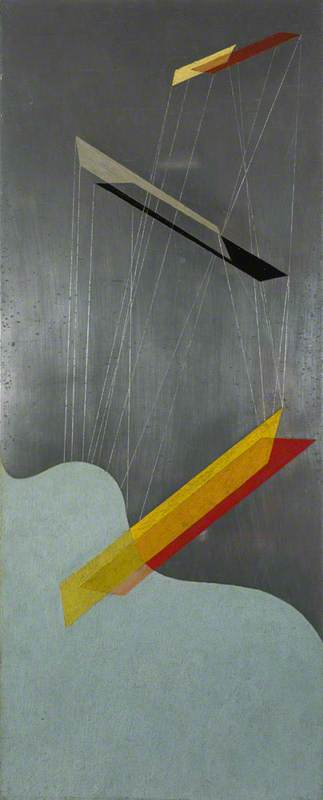 Photo credit: National Galleries of Scotland
(b Borsod [now Bácsborsod], 20 July 1895; d Chicago, 24 Nov. 1946). Hungarian-born painter, sculptor, experimental artist, and writer who became an American citizen in 1946, a few months before his death. After qualifying in law at Budapest University and serving in the Austro-Hungarian army in the First World War, he moved to Vienna in 1919 and then in 1920 to Berlin, where he painted abstract pictures influenced by Lissitzky (himself newly arrived from Russia). He also experimented with collage and photomontage and in 1922 had his first one-man exhibition, at the Sturm Gallery. From 1923 to 1928 he taught at the Bauhaus, taking over from Itten the running of the preliminary course. The difference in approach between these two highly distinctive characters is summed up by Frank Whitford (Bauhaus, 1984): 'Even Moholy's appearance proclaimed his artistic sympathies.
Read more
Itten had worn something like a monk's habit and had kept his head immaculately shaved with the intention of creating an aura of spirituality and communion with the transcendental. Moholy sported the kind of overall worn by workers in modern industry. His nickel-rimmed spectacles contributed further to an image of sobriety and calculation belonging to a man mistrustful of the emotions, more at home among machines than human beings.' Although he was regarded as a brilliant teacher, his assertiveness and his rejection of a spiritual dimension in art made him unpopular with some of his colleagues. He resigned when Hannes Meyer replaced Walter Gropius as director in 1928, then worked for some years in Berlin, chiefly on stage design and experimental film. In 1934 he left Germany because of the Nazis, moving to Amsterdam and then in 1935 to London, where he worked on designs for the science fiction film Things to Come (1936), produced by his fellow Hungarian Alexander Korda, and contributed to the Constructivist review Circle (1937). In 1937 he emigrated to Chicago, where he became director of the short-lived New Bauhaus (1937–8), then founded his own School of Design (1939; the name was changed to the Institute of Design in 1944), directing it until his death. He was one of the most influential teachers of the 20th century and one of the most inventive and versatile of Constructivist artists, pioneering especially in his use of light, movement (see Kinetic art), photography, film, and plastic materials. His views, emphasizing the Constructivist doctrine that so-called fine art must be integrated with the total environment, were most fully expressed in his posthumously published book Vision in Motion (1947).
Text source: The Oxford Dictionary of Art and Artists (Oxford University Press)