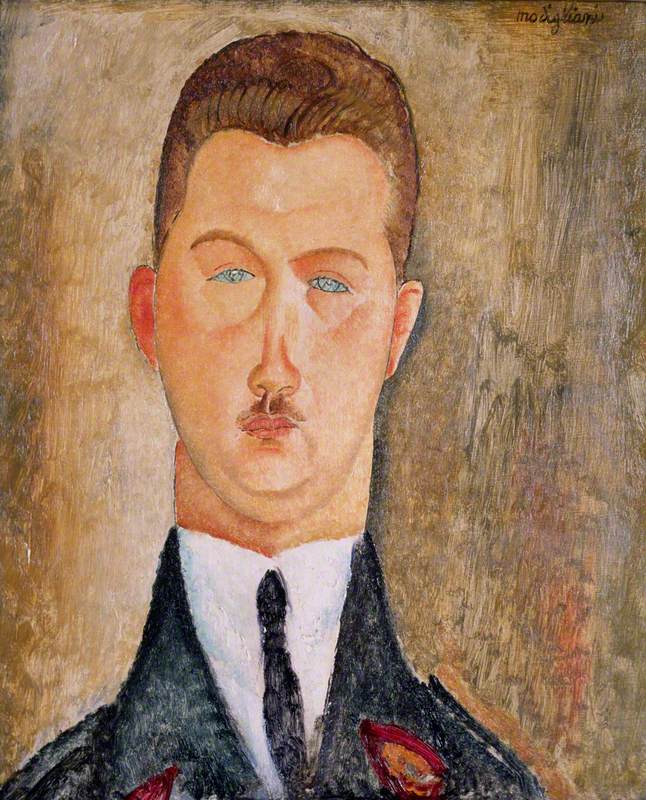 Photo credit: Estorick Collection, London
(b Livorno [Leghorn], 12 July 1884; d Paris, 24 Jan. 1920). Italian painter, sculptor, and draughtsman, active mainly in Paris. Although virtually his whole career was spent in France, he laid the foundations of his style in Italy with his study of the masters of the Renaissance. In particular he is often seen as a spiritual heir of Botticelli because of the linear grace of his work, and his reclining nudes continue a tradition begun by Giorgione and Titian. He moved to Paris in 1906; apart from visits to his family in Italy and a year spent at Nice and Cagnes, 1918–19, this was his home for the rest of his life, and he became a familiar figure in the café and night life of Montmartre. Initially he was strongly influenced by Cézanne, from whom he learnt much about simple dignity of composition and subtle handling of colour harmonies.
Read more
However, in 1909 he met Brancusi and under his influence devoted himself mainly to stonecarving until 1914, when the war made it impossible for him to get materials. He then returned to painting and his finest pictures were produced in the last five years of his short life. Both as a sculptor and as a painter his range was limited. Almost all his two dozen or so surviving sculptures are heads and the great majority of his paintings are portraits or female nudes. Common to virtually all his work are extremely elongated, simplified forms and a superb sense of rhythmic vitality, but there is a great difference in mood between, for example, his sculptures (Head, c.1911–12, Tate, London), which have the primitive power of the African masks that inspired them, and his gloriously sensual nudes (Reclining Nude, c.1919, MoMA, New York), which were censured for their open eroticism (the only one-man exhibition he held in his lifetime, at the Galerie Berthe Weill, Paris, in 1917, was closed by the police because of the 'filth' on display). Modigliani's early death from tuberculosis was hastened by his notoriously dissolute lifestyle, and his mistress Jeanne Hébuterne, pregnant with their second child, committed suicide the day after he died. At this time he was beginning to make a name among enthusiasts of modern art but was virtually unknown to the world at large; his posthumous fame was established by an exhibition at the Galerie Bernheim-Jeune, Paris, in 1922 and a colourful biography by the poet and critic André Salmon (1881–1969) published in 1926—Modigliani, sa vie et son œuvre. His reputation as one of the outstandingly original artists of his time is now secure, but his fame rests even more on his reputation as the bohemian par excellence: in the popular imagination he is the archetypal romantic genius, starving in a garret, the victim of drugs and alcohol, an inveterate womanizer, but painting and carving obsessively.
Text source: The Oxford Dictionary of Art and Artists (Oxford University Press)