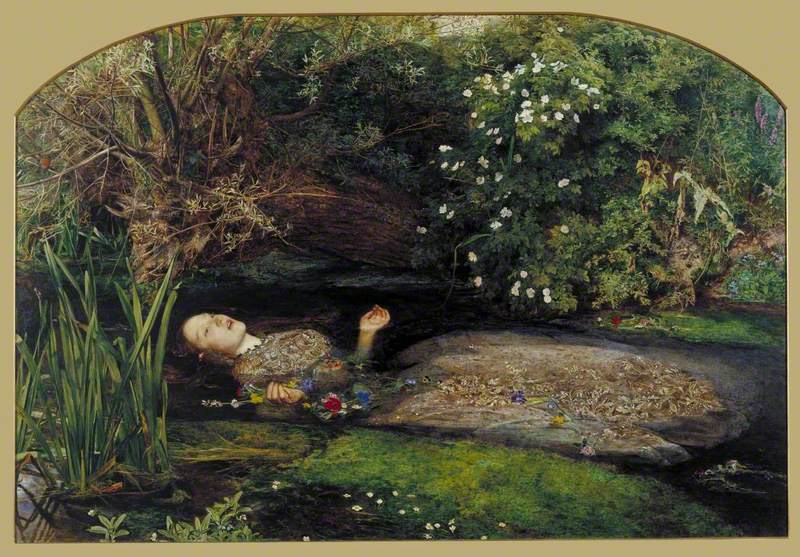 (Born Southampton, 8 June 1829; died London, 13 August 1896). English painter and book illustrator. A child prodigy who was hard-working as well as naturally gifted, he became the youngest ever student at the Royal Academy Schools when he was 11, and although he suffered some temporary setbacks in his twenties, his career was essentially one of the great Victorian success stories. In 1848, with Rossetti and Holman Hunt, he founded the Pre-Raphaelite Brotherhood and had his share of the abuse heaped against the members until Ruskin stepped in as their champion. (In 1855 Millais married Effie Gray, formerly Ruskin's wife, after this first marriage had been annulled.) In the 1850s his style changed, as he moved away from the brilliantly coloured, minutely detailed Pre-Raphaelite manner to a broader and more fluent way of painting—with a family to support he said he could not afford to spend a whole day working on an area 'no larger than a five shilling piece'.
Read more
His subjects changed also, from highly serious, morally uplifting themes to scenes that met the public demand for sentiment and a good story. Many of them featured children, whom he painted with great affection, often modelling them on his own family: The Boyhood of Raleigh (1870, Tate, London), for example, shows his two eldest sons. He became enormously popular, not only with subject pictures such as this (colour reproductions of his best-loved works sold in hundreds of thousands), but also as a portraitist and book illustrator; his drawings for the novels of Anthony Trollope were such a success that Trollope said they influenced the way he developed the characters in sequels.

Millais lived in some splendour on his huge income and was loaded with honours: most notably, in 1885 he was created a baronet (a rare distinction for a painter) and in the year of his death he succeeded Leighton as president of the Royal Academy. To some of his contemporaries it seemed that he wasted his talents pandering to public taste, and many later critics have presented him as a young genius who sacrificed his artistic conscience for money. Millais, an easy-going and much-liked man, certainly enjoyed his success, but he was far from being a cynic. He was always proud of his skills (near the end of his career he wrote, 'I may honestly say that I have never consciously placed an idle touch upon canvas'), and few of his contemporaries could match his late works for sheer beauty of handling (Bubbles, 1886, A. & F. Pears Ltd.).
Text source: The Oxford Dictionary of Art and Artists (Oxford University Press)