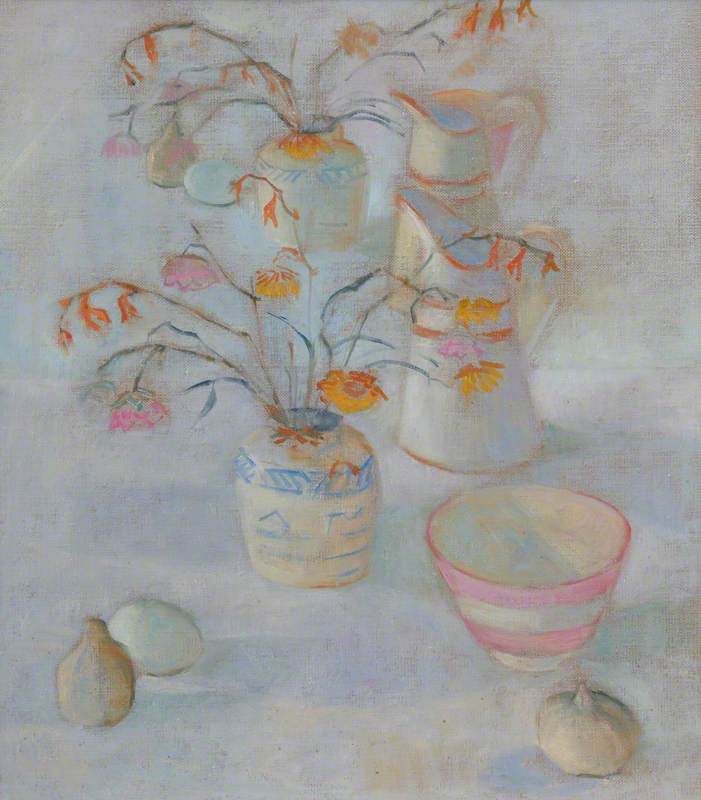 © the artist's estate. Photo credit: Art in Healthcare
Painter in oil and teacher, born in London. She studied at Slade School of Fine Art under Randolph Schwabe, 1941–3; worked in an Admiralty drawing office, 1943–5; studied at West of England College of Art, Bristol, 1946–8; and taught at Bristol Polytechnic faculty of art and design, 1966–76. She married the painter Paul Feiler, 1946, and until her divorce from him in 1967 painted as June Feiler, changing to her maiden name of June Miles after that. She married the sculptor Paul Mount in 1978. Miles was a member of RWA, Penwith Society of Arts and Newlyn Society of Artists. She participated in many mixed shows, including RA, RP, LG, RBA, John Whibley Gallery, Women's International in Paris, where she gained a bronze medal in 1968, and in Cornwall.
Read more
Had a long series of solo shows, including Van Mildert College, Durham University, 1970; RWA, 1977; Beaux Arts, Bath, 1983; Penwith Gallery, St Ives, 1985; Coach-House Gallery, Guernsey, 1988, and Lemon Street Gallery, Truro, 2000. RWA, Plymouth and Bristol City Art Galleries hold examples. Lived at St Just, Penzance, Cornwall.
Text source: 'Artists in Britain Since 1945' by David Buckman (Art Dictionaries Ltd, part of Sansom & Company)