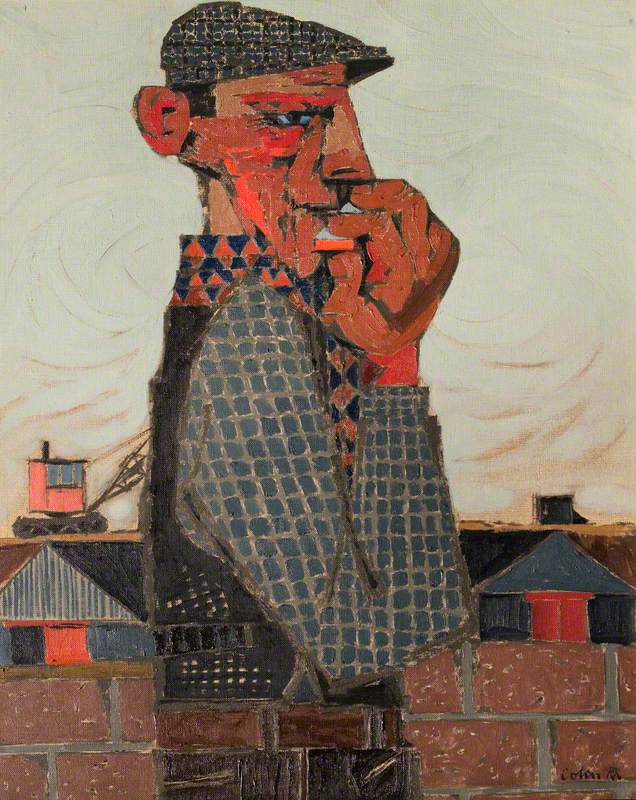 © the artist's estate. Photo credit: Herbert Art Gallery & Museum
Restlessly experimental artist and teacher whose work often has a magical intensity. He was born in Belfast, Northern Ireland, son of a linen damask designer who had many artist friends. Middleton reluctantly followed his father into the family business instead of going to art school, took it over on his father's death in 1935 and did not relinquish it until 1947. After leaving Belfast Royal Academy Middleton attended the College of Art part-time, getting good tuition from Newton Penprase in the design department. Van Gogh and James Ensor were early influences. Middleton's pre-war work had two main strands: Expressionist scenes in Belfast and Surrealism. In 1934 he first exhibited with Ulster Unit, inspired by Unit One, then in 1943 had an initial solo show at Stranmillis Museum and Art Gallery.
Read more
An association with the Victor Waddington Galleries in Dublin did much to promote his name, and many one-man and group appearances followed, noteworthy being Ulster Museum, Belfast, and Municipal Gallery of Modern Art, Dublin, 1976. They and many other public collections hold examples. Middleton worked widely in Northern Ireland, often living in a caravan and cycling around the province, but eventually settled in Bangor, County Down. In the mid-1950s he was forced into part-time teaching at Belfast College of Art; in 1955 taught full-time at Coleraine Technical College; then in 1961–70 taught at the Friends' School, Lisburn. In 1972 Middleton went on a world cruise; it, an interest in religion, philosophy, writing poetry and making music all fed his art. He was elected RHA in 1970. There was a studio sale of Middleton's work at Christie's, London, in 1985. The Irish Museum of Modern Art, Kilmainham, showed work from the George McLelland collection in 2001. His son was the artist John Middleton.
Text source: 'Artists in Britain Since 1945' by David Buckman (Art Dictionaries Ltd, part of Sansom & Company)