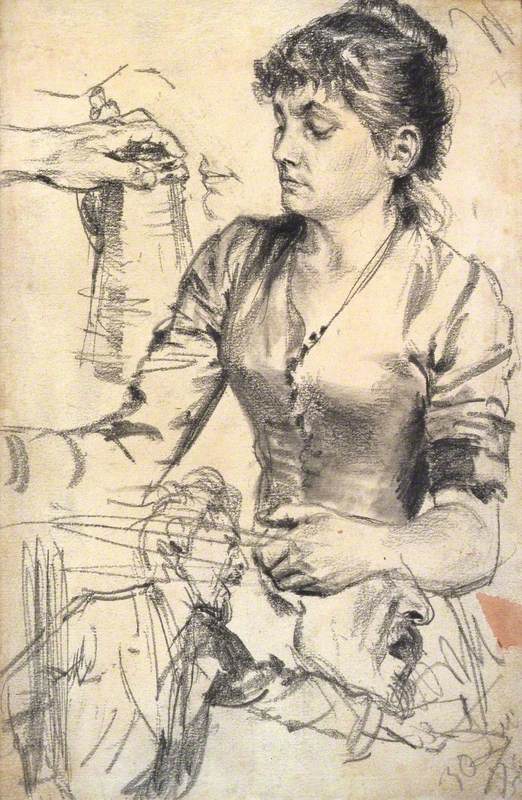 Photo credit: The Henry Barber Trust, The Barber Institute of Fine Arts, University of Birmingham
(b Breslau, Silesia [now Wrocław, Poland], 8 Dec. 1815; d Berlin, 9 Feb. 1905). German painter and printmaker, active mainly in Berlin, where in 1832 he took over his dead father's lithographic business. He was extremely industrious and achieved fame with 400 illustrations (wood engravings from his lively drawings) for Franz Kugler's History of Frederick the Great (1840–2). In painting he worked on similar themes and with comparable success, creating the popular image of the founder of the Prussian state. From the 1860s he turned to subjects from modern life and was one of the first German painters to depict the picturesque qualities of industry (The Steel Mill, 1872–5, Alte NG, Berlin). Today, however, Menzel is most highly regarded not for the works that brought him contemporary acclaim, but for a series of informal landscapes and interiors dating from the 1840s that remained virtually unknown in his lifetime.
Read more
They are remarkably free and fresh in technique, unorthodox in composition, and both bold and refined in their treatment of light, presaging the developments of Impressionism (The Artist's Sister with a Candle, 1847, Neue Pin., Munich). His attitude towards these paintings was strange: he kept them hidden and referred to Impressionism as 'the art of laziness', and when he visited Paris in 1855, 1867, and 1868 the artist he most admired was the tiresomely meticulous Meissonier.
Text source: The Oxford Dictionary of Art and Artists (Oxford University Press)