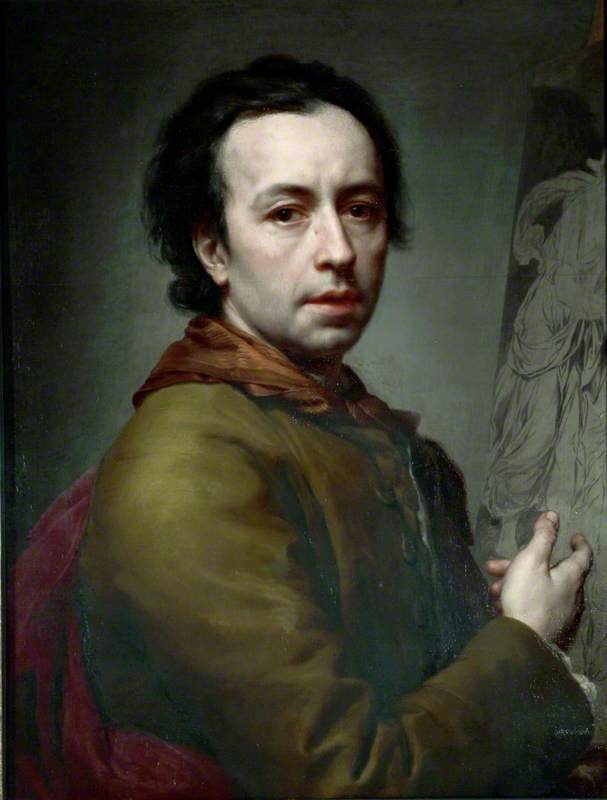 Photo credit: Walker Art Gallery
(b Aussig, Bohemia [now Ústí nad Labem, Czech Republic], 12 Mar. 1728; d Rome, 29 June 1779). German painter, the son of a court painter in Dresden, Ismael Mengs (1688–1764). His father brought him up with harsh severity to be a great painter, on the models particularly of Correggio and Raphael (from whom he gained his Christian names). In 1740 he was taken to Rome and there established a reputation as a youthful prodigy. He returned to Germany in 1744 and in the next few years achieved success as a portraitist in Dresden. In 1748–9 he made another visit to Rome, during which he married an Italian girl, and in 1752 he settled in the city, becoming a close friend of Winckelmann, who provided much of the theoretical inspiration for his work.
Read more
It was for Winckelmann's patron, Cardinal Alessandro Albani, that Mengs painted his most famous work, the ceiling fresco Parnassus (1761) in the Villa Albani (now the Villa Torlonia), Rome. The fresco now seems flimsy and simpering, but it was the basis of Mengs's enormous contemporary reputation (he was widely regarded not only as a leader of the Neoclassical movement, but also as the greatest living painter). It breaks completely with Baroque illusionism, treating the scene exactly as if it were to be seen at normal eye level, and is full of allusions to the antique and the High Renaissance. In 1761–9 and 1774–7 he worked as court painter in Spain, carrying out a large amount of decoration in the Royal Palace, Madrid. His frescos there are dull and sterile, but it is a sign of the move in taste towards Neoclassicism that certain of his works were preferred to those of his fellow court painter Giambattista Tiepolo, now regarded as an incomparably greater artist. Mengs was influential through his writings on art (which appeared in or soon after his lifetime in English, French, German, Italian, and Spanish) as well as his paintings. Today his portraits are considered more successful than his history paintings, and he was Batoni's main rival as the leading portraitist in Rome. His sister Theresa Concordia Mengs (1725–1808), a miniaturist of some distinction, married his pupil Anton von Maron; another sister also painted miniatures, as did his daughter.
Text source: The Oxford Dictionary of Art and Artists (Oxford University Press)