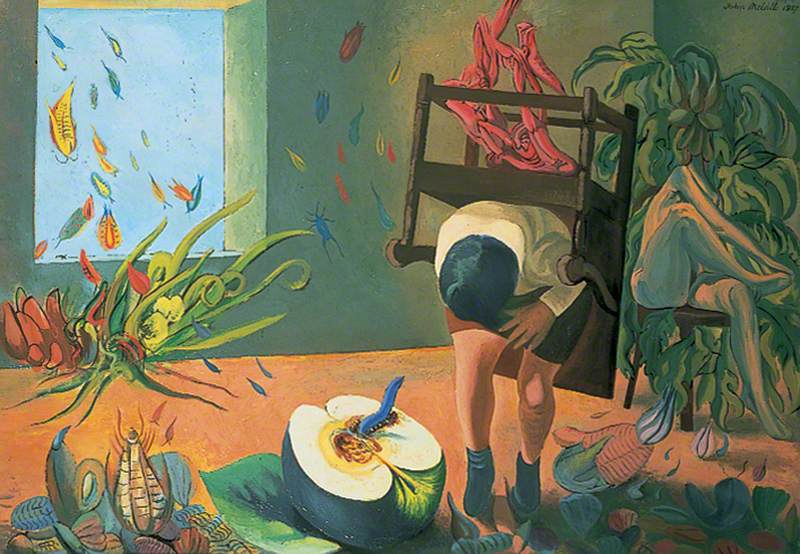 © the copyright holder. Photo credit: Bridgeman Images
Painter, born in London, but moved with his family in childhood to Birmingham where he continued to live. Largely self-taught, Melville towards the end of the 1920s became associated with the Modern Group in Birmingham. By the early 1930s he was connected with the Surrealists in London and had acquired a valuable patron in Birmingham, a civil servant, Enoch Lockett. In 1938 some of Melville's works were banned from an exhibition in Birmingham by local councillors as being "detrimental to public sensibility".
Read more
Just before World War II, during which Melville worked for the Ministry of Food in Birmingham, the artist published a series of pieces in the Surrealist publication London Bulletin. From the 1950s Melville taught for a time in the extra-mural department of Birmingham University. For many years, however, he remained a largely neglected painter working away in provincial obscurity, his reputation getting a revival with the fiftieth anniversary of the International Surrealist Exhibition. He had exhibited widely from the 1930s at St George's Gallery, Wertheim Gallery, RBSA and elsewhere and was featured in international shows of Surrealist and Dada art. Blond Fine Art had a retrospective show in 1986, Gothick Dream Fine Art a memorial exhibition in 1987, with another show at The Millinery Works in 2006. His brother was the writer Robert Melville.
Text source: 'Artists in Britain Since 1945' by David Buckman (Art Dictionaries Ltd, part of Sansom & Company)