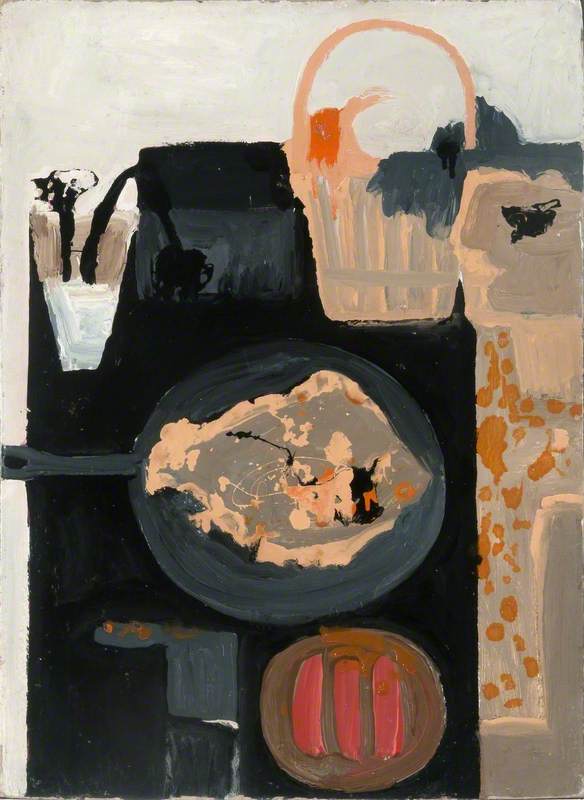 © the estate of Margaret Mellis. Photo credit: Jerwood Collection
Painter, maker of reliefs and collages and sculptor, born in Wu-Kung-Fu, China, of Scottish parents. Moved to Britain as a baby, was educated in Edinburgh and attended the College of Art there, 1929–33, her teachers including Hubert Wellington and S J Peploe. A postgraduate award and scholarship enabled her to study and travel on the continent, where she was taught in Paris by André Lhote. From 1935–7 she held a fellowship at Edinburgh College of Art. Then studied at Euston Road School and in 1939 with her first husband, Adrian Stokes (she later married Francis Davison), moved to St Ives where they became key figures in the artists' colony. There she was influenced by Ben Nicholson and Naum Gabo and adopted a Constructivist style, making reliefs, returning to painting after the war, when she lived for two years from 1948 in the south of France.
Read more
Returning to England in 1950 she went to live in Suffolk, settling in Southwold, where found objects and driftwood were employed in her work. Exhibited widely in group shows and had many solo exhibitions, including AIA Gallery, Bear Lane Gallery in Oxford, Redfern Gallery and a retrospective at City Art Centre, Edinburgh, 1997. Later exhibitions included Austin/Desmond Fine Art, 2001 and 2005. Victoria & Albert Museum, Ferens Art Gallery in Hull and other public galleries hold examples.
Text source: 'Artists in Britain Since 1945' by David Buckman (Art Dictionaries Ltd, part of Sansom & Company)