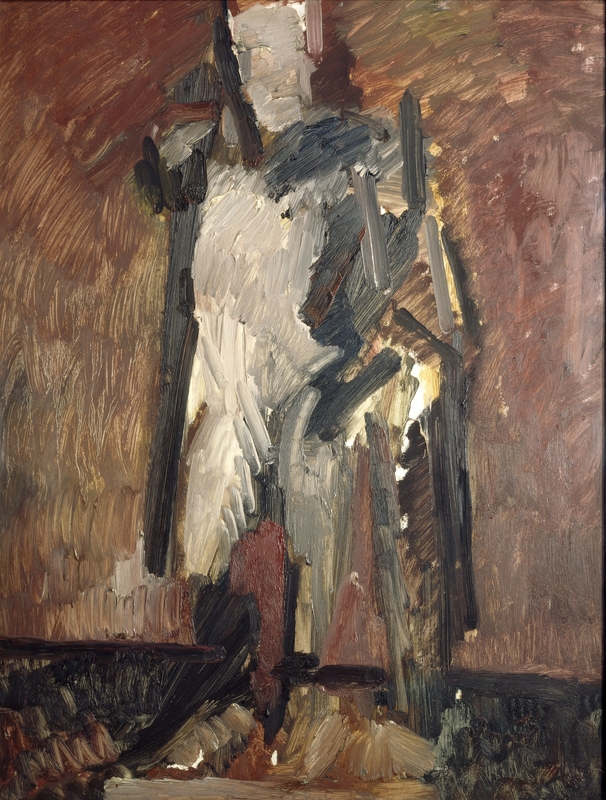 © the artist's estate. Photo credit: UCL Culture
Painter, draughtsman and etcher, born in London, where she continued to live for some years. Studied at South-East Essex Technical College, Dagenham, with David Bomberg, then followed him to the City Literary Institute (where she met Cliff Holden, with whom she was closely associated for many years) and the Borough Polytechnic, 1945–51. Attended Slade School of Fine Art as a mature student, 1956–9; had a strong influence on many students, including Mario Dubsky; gained the Steer Medal, 1958, and several major prizes; but left without a diploma because of her refusal to attend lectures and examinations on perspective, which she considered outdated. As a founder-member of the Borough Group Mead participated in Group shows and did much to disseminate Bomberg's ideas in Britain and abroad, notably through her association with Andrew Forge.
Read more
Mead was president of Young Contemporaries, 1958–9. She showed with LG from 1947, was elected in 1959 and was its first lady president, 1973–4, resigning in 1975 due to cancer. Worked extensively in Spain. London dealers showed no interest in Mead's pictures, which were strongly influenced by Bomberg, and she never had a solo exhibition. A drawing of Dorothy Mead by David Bomberg and Richard Michelmore and three etchings by her were in a Borough Group show at Fine Art Associates, 1989; she was included in David Bomberg and his followers at Towner Art Gallery, Eastbourne, 1991. There was a retrospective of paintings and works on paper, 1947–74, at the Boundary Gallery in 2005. Arts Council, London University and Tate Gallery hold her work.
Text source: 'Artists in Britain Since 1945' by David Buckman (Art Dictionaries Ltd, part of Sansom & Company)