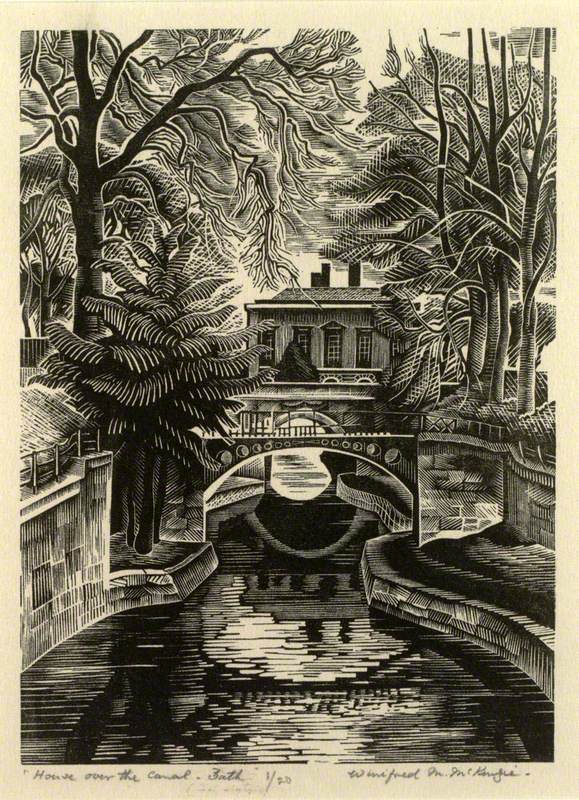 © the copyright holder. Photo credit: University of Dundee, Duncan of Jordanstone College Collection
Printmaker and painter in oil and teacher, sister of the artist Alison McKenzie. Born in Bombay, India, she studied at Glasgow School of Art under Maurice Greiffenhagen and wood engraving with Iain Macnab at the Grosvenor School of Modern Art. Shared a studio with her sister and a lectureship at Duncan of Jordanstone College of Art, Dundee, as well as several exhibitions, including Loomshop Gallery, in Lower Largo, Fife. Also showed at Blond Fine Art, SWE, SSWA, RSA and elsewhere, being a member of SWE, SSWA and other societies. Claimed she was influenced by Japanese prints as a student, later Italian and French art. Public galleries in Liverpool, Perth and Cork and HRH The Duke of Edinburgh hold her work. There was a retrospective of McKenzie's work at The English Speaking Union, Edinburgh, in 1984.
Read more
McKenzie continued painting until she was 90 and her eyesight failed. Lived in St Andrews, Fife.
Text source: 'Artists in Britain Since 1945' by David Buckman (Art Dictionaries Ltd, part of Sansom & Company)