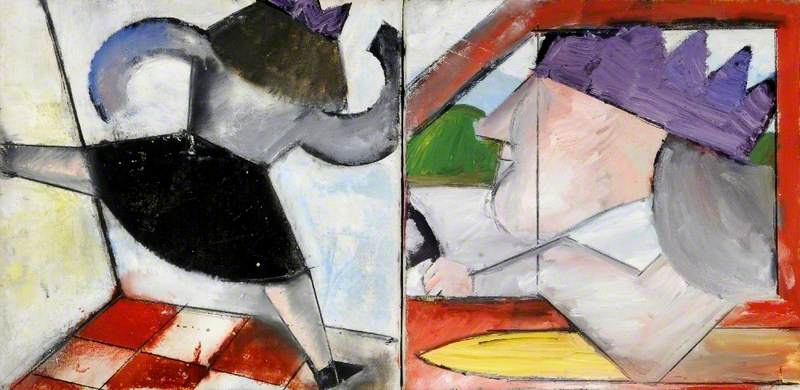 © the artist. Photo credit: Museums Sheffield
Painter, born in Paisley, Renfrewshire. He studied at Chelsea School of Art, 1973–7, going on to teach part-time at Slade School of Fine Art. McFadyen won a major Arts Council Award, an award from the same source for a film project and in 1981 was artist-in-residence at National Gallery. McFadyen's raw, colourful and sometimes gauche-looking pictures are in fact a serious comment on life in the modern urban environment. His group shows included the Whitechapel Open; the Arts Council tour Fragments Against Ruin; and New British Painting at Cincinatti Arts Centre, and tour. The artist had many solo shows, including Acme Gallery; Bede Gallery, Jarrow; Compass Gallery, Glasgow; Blond Fine Art; and Scottish Gallery, London, 1989. Beyond Turner's Road, at Agnew in 2001, continued McFadyen's urban obsession with pictures of London, Orkney, middle America and France.
Read more
McFadyen's work is held by Arts Council, Scottish Arts Council, Contemporary Art Society and Amnesty International. Lived in London.
Text source: 'Artists in Britain Since 1945' by David Buckman (Art Dictionaries Ltd, part of Sansom & Company)