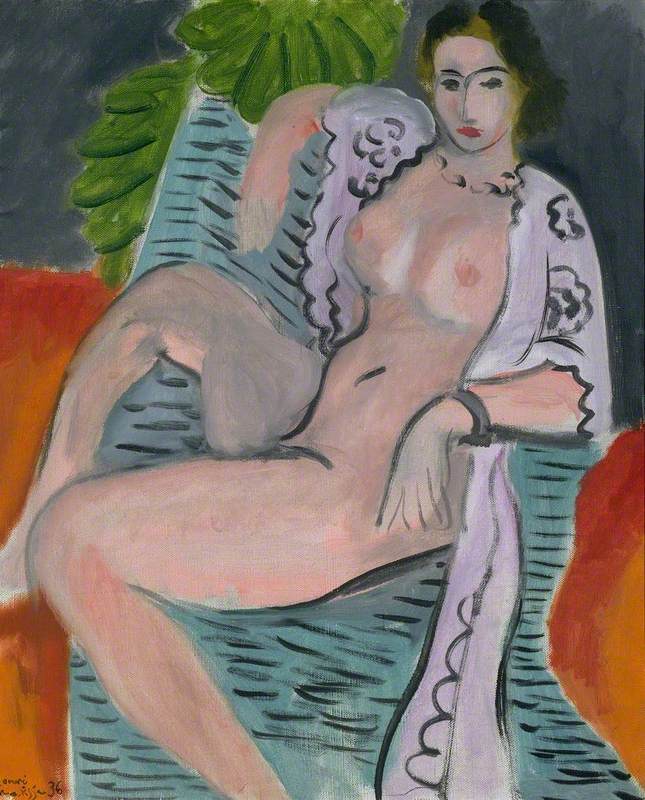 © Succession H. Matisse/ DACS 2023. Photo credit: Tate
(b Le Cateau-Cambrésis, nr. Cambrai, 31 Dec. 1869; d Nice, 3 Nov. 1954). French painter, sculptor, draughtsman, printmaker, and designer, one of the most illustrious artists of the 20th century. From the 1920s he enjoyed an international reputation alongside Picasso as the foremost painter of his time. Unlike Picasso, he was a late starter in art, and he was not quite so prolific or versatile, but for sensitivity of line and beauty of colouring he stands unrivalled among his contemporaries. He began studying art in 1891 after abandoning a legal career. His early pictures—mainly still lifes and landscapes—were sober in colour, but in the summer of 1896, painting in Brittany, he began to adopt the lighter palette of the Impressionists. In 1899 he started to experiment with the Neo-Impressionist technique, which he still used five years later in one of his first major works—the celebrated Luxe, calme et volupté (1904–5, Mus.
Read more
d'Orsay, Paris), exhibited at the Salon des Indépendants in 1905 and bought by Signac. During this period he had been painting with Marquet, and had met Derain and through him Vlaminck; in 1905, together with these and other friends from student days, he took part in the exhibition at the Salon d'Automne that launched Fauvism. In the same year (Matisse's annus mirabilis) he acquired his first important patrons—the expatriate Americans Gertrude, Leo, and Michael Stein—and they were soon followed by others. Previously he had struggled to earn a living, but he was now free from financial worries and could afford to travel (before the First World War he visited Germany, where his work was becoming influential among the Expressionists, Morocco, Russia, and Spain). His growing reputation also attracted many pupils to the art school he ran in Paris from 1907 to 1911.Matisse had met Picasso as early as 1906, and during the second decade of the century he was influenced by Cubism (or rather responded to its challenge) and painted some of his most austere and formal pictures (Bathers by a River, 1916–17, Art Inst. of Chicago). In the 1920s, however, he returned to the luminous serenity that characterized his work for the rest of his long career. From 1916 he spent most of his winters on the Riviera, mainly at Nice and also at nearby Vence. The luxuriously sensual works he painted there—odalisques, still lifes of tropical fruits and flowers, and glowing interiors—are irradiated with the strong sun and rich colours of the south. During the 1930s he travelled widely again, but in 1940 he settled permanently in the south of France to escape the German occupation of Paris. Following two major operations for duodenal cancer in 1941, he was confined to bed or a wheelchair, but he worked until the end of his life and one of his greatest and most original works was created in 1949–51, when he was in his eighties. This is the Chapel of the Rosary at Vence, a gift of thanksgiving for a woman who had nursed him after his operations, then become a Dominican nun. Matisse designed every detail of the chapel, including the priests' vestments. The stained-glass windows show his familiar love of colour, but the walls feature murals of pure white ceramic tiles decorated with black line drawings of inspired simplicity. Matisse was not a believer, but he created here one of the most moving religious buildings of the 20th century and expressed what he called 'the nearly religious feeling I have for life'.In his bedridden final years Matisse also embarked on another kind of highly original work, using brightly coloured cut-out paper shapes (gouaches découpées) arranged into purely abstract patterns (L'Escargot, 1953, Tate, London). 'The paper cut-out', he said, 'allows me to draw in the colour. It is a simplification for me. Instead of drawing the outline and putting the colour inside it—the one modifying the other—I draw straight into the colour.' The colours he used in his cut-outs were often so strong that his doctor advised him to wear dark glasses. They must rank among the most joyous works ever created by an artist in old age. Unlike many of his great contemporaries, Matisse did not attempt to express in his work the troubled times through which he lived. 'What I dream of', he wrote, 'is an art of balance, of purity and serenity devoid of troubling or disturbing subject matter…like a comforting influence, a mental balm—something like a good armchair in which one rests from physical fatigue.'Matisse made sculptures at intervals throughout his career, the best known probably being the four bronzes called The Back I–IV (1909–c.1929, casts in Tate, London, and elsewhere), in which he progressively removed all detail, paring the figure down to massively simple forms. He also designed sets and costumes for Diaghilev and was a brilliant book illustrator. His work is represented in most important collections of modern art, the finest holdings being at the Barnes Foundation in Merion, Pennsylvania, the Hermitage, St Petersburg, and the Pushkin Museum, Moscow. There are also Matisse museums in Le Cateau (his birthplace) and Nice.His son Pierre Matisse (1900–89), an art dealer, settled in the USA in 1925 and became an American citizen in 1942. His gallery in New York (opened 1932) dealt particularly in the work of leading Surrealists, but he also represented artists as varied as Balthus, Chagall, and Giacometti. He also sold his father's work, although he never actually devoted an exhibition to it.
Text source: The Oxford Dictionary of Art and Artists (Oxford University Press)