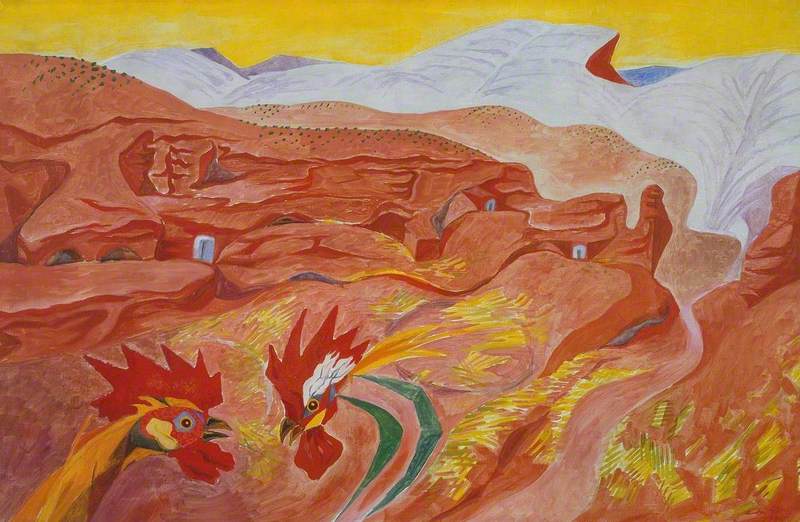 © ADAGP, Paris and DACS, London 2021. Photo credit: Tate
(b Balagny, 4 Jan. 1896; d Paris, 28 Oct. 1987). French painter, printmaker, sculptor, stage designer, and writer, one of the major figures of Surrealism. During the First World War he was seriously wounded and deeply scarred emotionally. His pessimism was accompanied by a profound and troubled curiosity about the nature and destiny of man and an obscure belief in the mysterious unity of the universe; he devoted the whole of his artistic activity to penetrating and expressing this belief.
Read more
In the early 1920s he was influenced by Cubism, but in 1924 he joined the Surrealist movement and remained a member until 1929, when he left in protest against Breton's authoritarian leadership. His work belonged to the spontaneous, expressive, semi-abstract variety of Surrealism, and included experiments with automatic drawings (see automatism), chance effects, and unusual materials (he sometimes incorporated sand in his paintings). Themes of metamorphosis, violence, psychic pain, and eroticism dominated his work. In 1934–6 he lived in Spain until the Civil War drove him back to France and in 1941–5 he took refuge from the Second World War in the USA. There his work formed a link between Surrealism and Abstract Expressionism. In 1945 he returned to France and two years later settled at Aix-en-Provence, where he concentrated on landscape painting, achieving something of the spiritual rapport with nature seen in some Chinese paintings.
Text source: The Oxford Dictionary of Art and Artists (Oxford University Press)