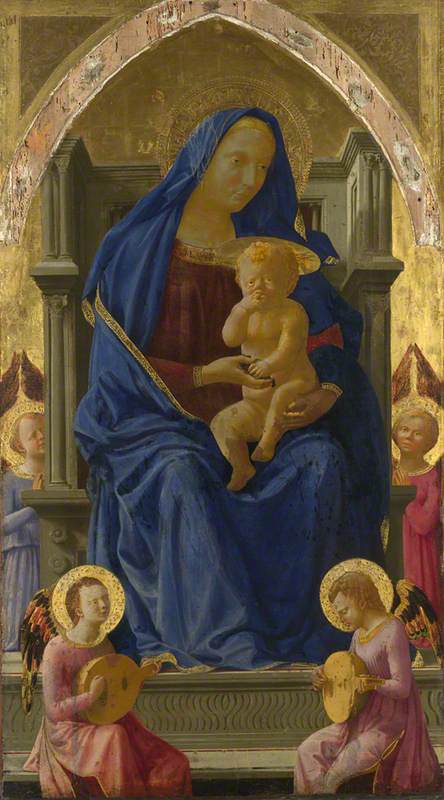 Photo credit: The National Gallery, London
(b Castel San Giovanni [now San Giovanni Valdarno], nr. Florence, 21 Dec. 1401; d Rome, ?June 1428 [or perhaps 1429]). Florentine painter. Although he died aged only 26 or 27, he brought about a revolution in painting and he ranks alongside his friends Alberti, Brunelleschi, and Donatello as one of the founding fathers of the Renaissance. His affectionate nickname, which may be translated as 'Hulking Tom' or 'Sloppy Tom', was given to him, so Vasari says, because he was so completely absorbed in art that 'he refused to give any time to worldly matters, even to the way he dressed'. He became a member of the painters' guild in Florence in 1422, but nothing is known of his training, the tradition that he was taught by Masolino, later his collaborator, now being discounted.
Read more
The earliest work attributed to him is the S. Giovenale Triptych (1422, S. Pietro, Cascia di Reggello), which is somewhat uncouth but reveals a totally individual spirit in its rejection of all Gothic elegance and concentration on the weight and bulk of the figures. Instead of learning from contemporary painters, Masaccio looked back to Giotto for inspiration, recapturing the gravity of feeling and grandeur of form that characterized his work. But whereas Giotto set his figures in space intuitively, Masaccio grappled with and solved the problem of creating a completely coherent and consistent sense of three dimensions on a two-dimensional surface, his work thus becoming part of 'the bed-rock of European art' (in Kenneth Clark's phrase). His enormous achievement was based on his mastery of the new science of perspective and his use of a single consistent light source to define the structure of the body and its draperies. Among contemporary artists he was closest in spirit to Donatello. Both artists were less concerned with surface appearances and isolated detail than with the underlying construction of objects and both excelled at the depiction of emotion with great force and directness.Masaccio has left three great works to posterity in which he enunciated his new principles: a polyptych (1426) for the Carmelite church in Pisa (the central panel is in the National Gallery in London, and the other ten surviving panels—probably representing about half the original total—are in the Gemäldegalerie, Berlin; the Getty Museum, Los Angeles; the Museo di Capodimonte, Naples; and the Museo Nazionale, Pisa); a fresco cycle, done in collaboration with Masolino, on the life of St Peter (with additional scenes of the Temptation of Adam and Eve and the Expulsion from Paradise) in the Brancacci Chapel of S. Maria del Carmine, Florence (c.1425–8); and a fresco of the Trinity in S. Maria Novella, Florence (c.1428). Masaccio moved to Rome in 1428, leaving the frescos in the Brancacci Chapel unfinished, and died so suddenly that Vasari said 'there were some who even suspected he had been poisoned'. Vasari adds that 'during his lifetime he had made only a modest name for himself', and certainly many of his Florentine contemporaries and successors were unmoved by his innovations. He was a great inspiration to the progressive masters of the next generation, however (Fra Angelico, Filippo Lippi, Piero della Francesca), and later became a hero to Florentine painters in general: Vasari records a whole roster of major artists, including Leonardo, Michelangelo, and Raphael, who studied his work in the Brancacci Chapel 'to grasp the precepts and the rules for good work'.Masaccio's younger brother, Giovanni di Ser Giovanni (1406–86), was also a painter, known by the nickname Lo Scheggia ('The Splinter'); this presumably indicates he was slight in stature or marks his connections with woodworking (his grandfather made wooden boxes and much of his own work consisted of decorating objects such as cassoni and deschi da parto).
Text source: The Oxford Dictionary of Art and Artists (Oxford University Press)