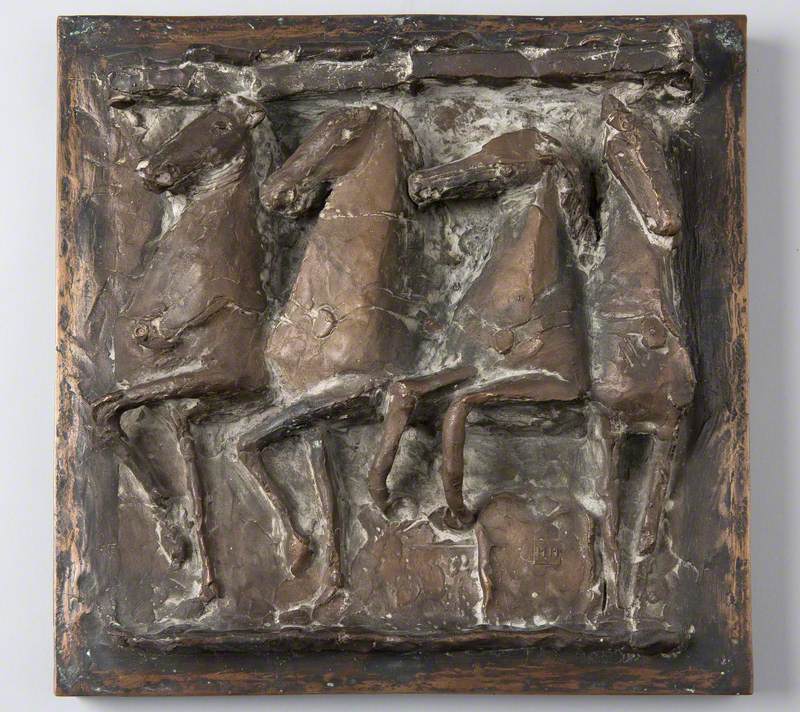 © DACS 2021. Photo credit: Estorick Collection, London
(b Pistoia, 27 Feb. 1901; d Viareggio, 6 Aug. 1980). One of the outstanding Italian sculptors of the 20th century, also a painter, lithographer, and etcher. His travels (particularly his visits to Paris) brought him into contact with many distinguished modern artists (Braque, Giacometti, Gonzales, Maillol, Picasso—to name but a few), but he did not ally himself with any avant-garde movements, remaining essentially isolated in his artistic aims.
Read more
Although he experimented with various materials, he worked mainly in bronze and concentrated on a few favourite themes, most notably the 'Horse and Rider', a subject in which he seemed to express an obscure but poignant tragic symbolism (Horseman, 1947, Tate, London). His other subjects include female nudes and he also made numerous portrait busts, remarkable for their psychological penetration and sensuous exploitation of the surface qualities of the material. Often he polychromed his bronzes, sometimes working with corrosive dyes. In 1952 he won the main sculpture prize at the Venice Biennale, setting the seal on his international reputation. There are Marini museums in Florence, Milan, and Pistoia and his work is represented in many major collections of modern art.
Text source: The Oxford Dictionary of Art and Artists (Oxford University Press)