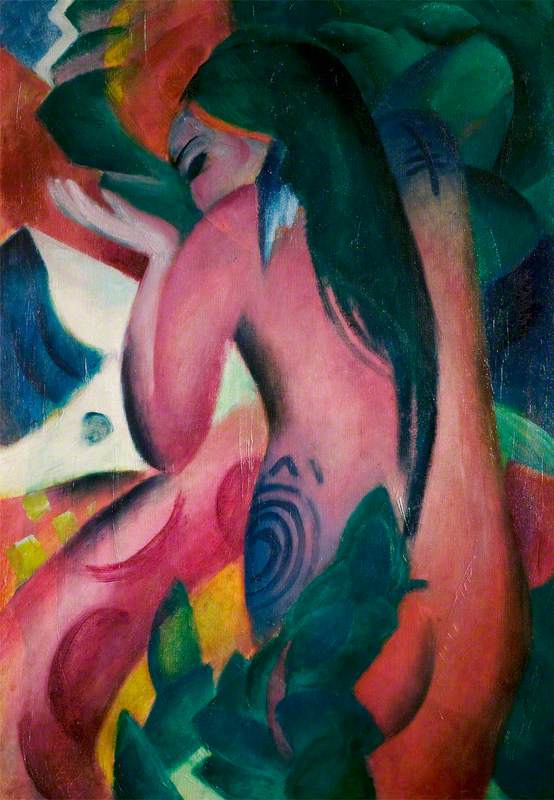 Photo credit: Leicester Museums and Galleries
(b Munich, 8 Feb. 1880; d nr. Verdun, 4 Mar. 1916). German painter, active mainly in his native Munich. His early work was in an academic style, but visits to Paris in 1903 and 1907 introduced him to Impressionism and Post-Impressionism. He was particularly impressed by the work of van Gogh, under whose influence his style moved towards Expressionism. In 1910 he met August Macke, who became his closest friend, and also Kandinsky; with them he was a leading member of the Blaue Reiter group, founded in 1911.
Read more
Marc was of a deeply religious disposition (in 1906 he visited Mount Athos in Greece with its famous monasteries) and was troubled by a profound spiritual malaise; through painting he sought to uncover mystical inner forces that animate nature. His ideas were expressed most intensely in paintings of animals, for he believed that they were both more beautiful and more spiritual than man. Using non-naturalistic symbolic colour and simplified, rhythmic shapes, he tried to paint animals not as we see them, but as they feel their own existence (Blue Horses, 1911, Minneapolis Inst. of Arts). In 1912 Marc saw an exhibition of Futurist paintings in Berlin and also met Delaunay in Paris. These events helped to move his work towards abstraction, as in Animal Destinies (1913, Kunstmuseum, Basle), which uses panic-stricken animals to symbolize a world on the edge of destruction; on the back of the picture he wrote: 'Und alles Sein ist flammend Leid' (And all being is flaming suffering). By 1914, his paintings had become still more abstract, losing almost entirely any representational content, as in Fighting Forms (1914, Neue Pin., Munich), an image of convulsive fury in which there are the merest suggestions of beak- and claw-like forms. These last paintings are considered among the culminating works of German Expressionism. Marc was killed in action in the First World War. See also degenerate art.
Text source: The Oxford Dictionary of Art and Artists (Oxford University Press)