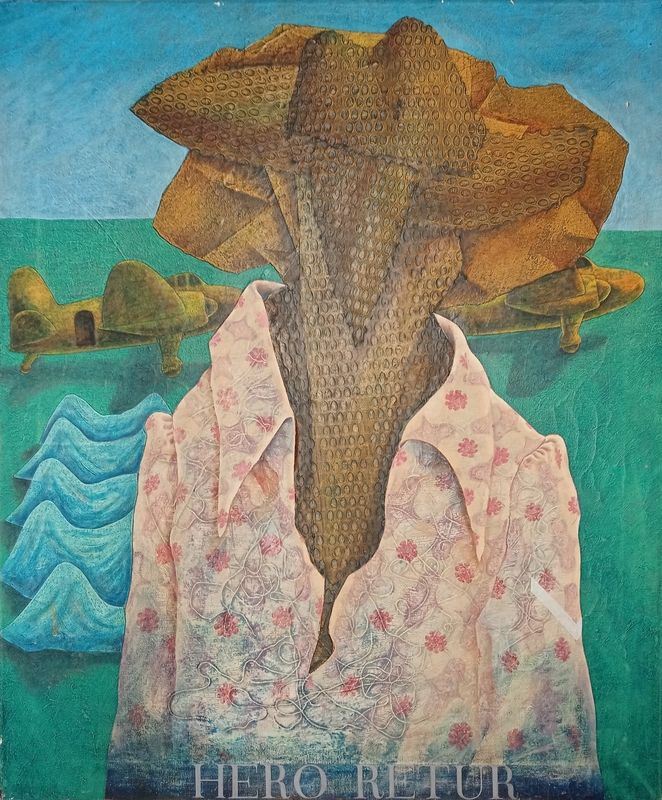 © the artist's estate. Photo credit: Keele University Art Collection
Artist and educator predominantly active in Stoke-on-Trent, Staffordshire. Trained at Stoke College of Art, 1958 and then Manchester College of Art, 1961. Unfortunately, George lost a significant amount of work in two separate fires although some paintings still remained in private ownership. His work followed his socialist values and was quite often political and confrontational drawing from other artists, notably Picasso, Goya and Dix. Born 16th August 1941; 1957–1960 Studied at Stoke College of Art, 1960–1961 Studied at Manchester Regional College of Art; 1962–1963 Assistant Lecturer in Basic Design Studies, Great Yarmouth College of Art; 1964–1967 Visiting Lecturer in Aesthetics at Stoke-on-Trent College of Art; 1967–1971 Lecturer in Fine Art, University of Science & Technology, Kumasi, Ghana, West Africa; 1971–1972 Appointed Lecturer in Fine Art at North Staffordshire Polytechnic; 1973 Appointed Senior Lecturer in Painting at North Staffordshire Polytechnic; 1985 Appointed Principal Lecturer in charge of Painting at North Staffordshire Polytechnic; 1986–1991 Practising artist in private time, in studios set up with colleagues, Burslem Stoke-on-Trent; 1991 Early retirement; 1991–1994 Full time practising artist with colleagues known as the Burslem Studio Group in a studio complex at Dairyfields Business Park, Sneyd Green, Stoke- on-Trent; 1995–1999 Practising artist after setting up a larger studio group known as the Tunstall Artists Club at Grindleys Pot Bank, Tunstall, Stoke-on-Trent; 1997–1999 Arts correspondent for the North Staffordshire Sentinel producing a weekly article about the arts, artists and exhibitions in the area; 1999–2000 Relocating with artist friends and colleagues Terry Shave and Stephen Boyd to new studios in the former Royal Albert Pottery, Tunstall, Stoke-on-Trent.
Read more
On 2nd August 2000 The Fire Studios in the former Royal Albert Pottery were burned down by arson leading to a collective loss of work by the three artists covering 90 years. Around 80 paintings and many drawings by George Frederick Mallalieu were destroyed, virtually all his lifetime's work; 2000–2001 Working with computer generated images on what was to become George F. Mallalieu's last exhibited work entitled 'Nutwood I' and 'Nutwood II'. The two sequences were exhibited in Keele University's 'Drawing a line around the world' show in January 2001. Died 7th July 2004.
Text source: Keele University Art Collection