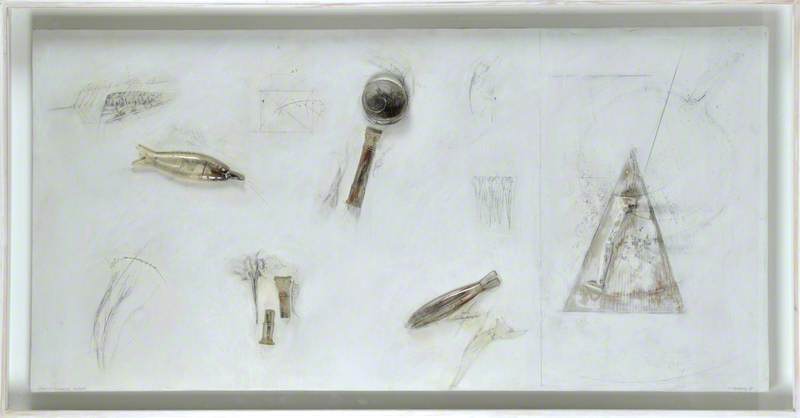 © the artist. Photo credit: University of Dundee Fine Art Collections
Painter, maker of constructions and sculptures, and teacher, born in Inverness, Scotland. Studied at Gray's School of Art, Aberdeen, 1961–7, including a period at Patrick Allan–Fraser School of Art, Hospitalfield, Arbroath. Then won a scholarship to British School of Art in Rome. Maclean came from a fishing family, and on his return from Rome he worked as a fisherman off Scotland. Meanwhile, he was showing in solo exhibitions, at 57 Gallery, Edinburgh, in 1968; and at Richard Demarco Gallery there, in 1970. When the Scottish International Education Trust commissioned Maclean to make a visual survey of ring-net fishing in 1973 it led to a creative burst of activity; the project was shown at Third Eye Centre, Glasgow, in 1978, eventually being acquired by Scottish National Gallery of Modern Art.
Read more
From mid-1970s Maclean also worked on sculptures and constructions which reflected his interest in the sea, fishing, Scottish history and folklore. After a period teaching at Bell-Baxter High School, Cupar, in 1981 became a lecturer, from 1994 being professor of fine art, at Duncan of Jordanstone College of Art, Dundee. Maclean is represented in many public collections including Aberdeen, Dundee, Hull, Perth, British Museum and Scottish Arts Council. Retrospective at Talbot Rice Gallery, Edinburgh, 1992. Was elected RSA. Lived at Tayport, Fife, married to the artist Marian Leven.
Text source: 'Artists in Britain Since 1945' by David Buckman (Art Dictionaries Ltd, part of Sansom & Company)