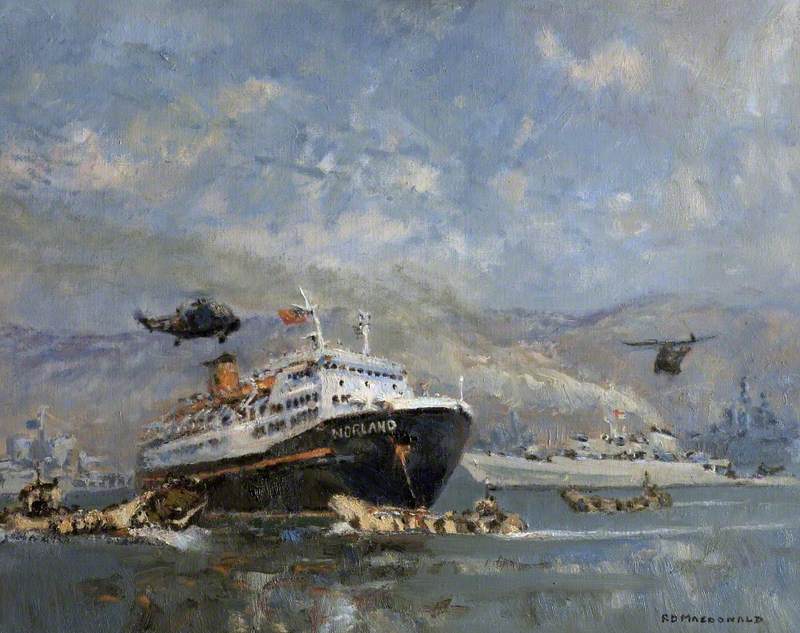 © the artist's estate. Photo credit: Fleet Air Arm Museum
Naval officer and artist, born in Batavia (now Jakarta), Java, where his father was a rubber, tea and coffee planter. As a small boy Roderick wished to go to sea. After prep school in Moffat he attended Fettes College, Edinburgh, developed an interest in art and became a fine rugby player, being made school captain – he also captained the Scottish Schoolboys, and played for United Services and Hampshire – and grew to love the Highlands while living in a croft with a Gaelic-speaking family. He abandoned the idea of being a full-time artist to join the Navy in 1939 and saw World War II and later service in widespread waters, drawing vivid illustrations of D-Day action. His 1993 book The Figurehead contains such sketches. Macdonald's slim volume Your Ship, published 1971, remained a manual for officers taking command of their first vessel.
Read more
He eventually became Chief of Staff, Allied Naval Forces Southern Europe, 1976–9, upon retirement being knighted in 1979. He settled on the Isle of Skye, where he became involved in community affairs; campaigned to stop tankers passing through the Minch; maintained his interest in piping; and was Chieftain of the Skye Highland Games. Exhibited internationally, with biennial shows in Edinburgh and London, including Impressionistic island landscapes and paintings of the Falklands Campaign, taken from notes of men who had had served there. Vice-Admiral Sir Roderick Macdonald had a retrospective at the Malcolm Innes Gallery in 2000. The Caledonian Club and military museums hold examples. Died at Portree.
Text source: 'Artists in Britain Since 1945' by David Buckman (Art Dictionaries Ltd, part of Sansom & Company)