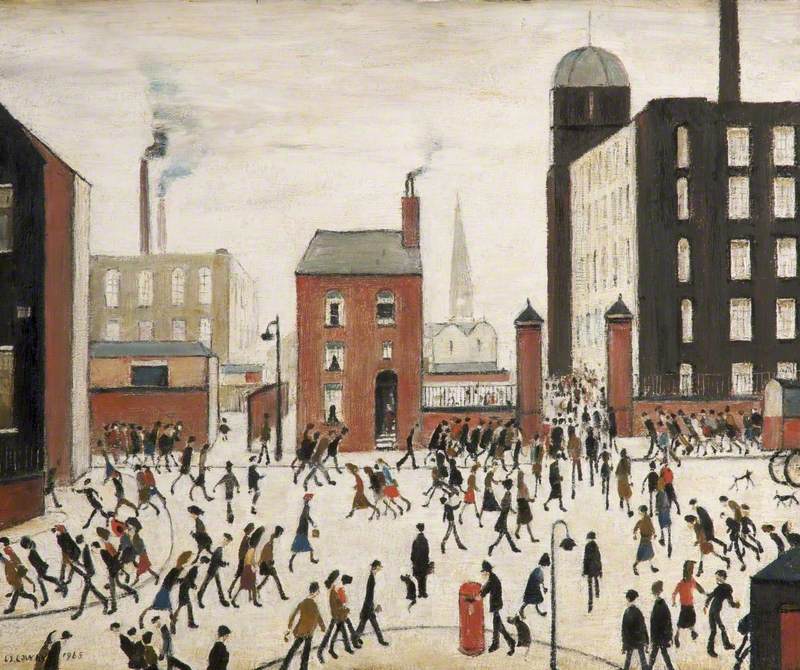 © The Estate of L.S. Lowry. All Rights Reserved, DACS 2023. Photo credit: The Lowry Collection, Salford
(b Stretford, Lancashire [now in Greater Manchester], 1 Nov. 1887; d Glossop, Derbyshire, 23 Feb. 1976). British painter. He lived all his life in or near Manchester (mainly in Salford) and worked as a rent collector and clerk for a property company until he retired in 1952. His painting was done mainly at night after his day's work, but he was not a naive painter, having studied intermittently at art schools from 1905 to 1925. The most important of his teachers—at Manchester School of Art—was Adolphe Valette (1876–1942), a French painter who settled in Manchester in 1905 and whose work includes some memorably atmospheric views of the city. Lowry, too, concentrated on urban subjects, but his style was very different to Valette's and much more in the tradition of certain painters of the Camden Town Group.
Read more
His most characteristic pictures feature firmly drawn backgrounds of industrial buildings, often bathed in a white haze, against which groups or crowds of figures, painted in his distinctive stick-like manner, move about their affairs. Many of his paintings record his immediate surroundings, but others are semi-imaginary views. There is sometimes an element of humour, but the prevailing feeling is generally what Sir John Rothenstein calls 'a kind of gloomy lyricism' (Lowry was a solitary character and said, 'Had I not been lonely I should not have seen what I did'). His first one-man exhibition, at the Reid and Lefevre Gallery, London, in 1939, established his name outside his home area for the first time, and his reputation steadily increased thereafter, although he continued to lead a spartan life. In 1976, a few months after his death, a comprehensive retrospective exhibition of his work at the Royal Academy brought considerable divergence of opinion among critics. Some thought of him as a great artist with an important original vision. Others represented him as a very minor talent, although interesting as a social commentator. The best collection of his work is in the Lowry, a large arts centre that opened in Salford in 2000. It includes a number of disturbing fetishistic drawings of women that came to light after Lowry's death; they have been interpreted as part of his 'melancholy and tortured' view of the world.
Text source: The Oxford Dictionary of Art and Artists (Oxford University Press)