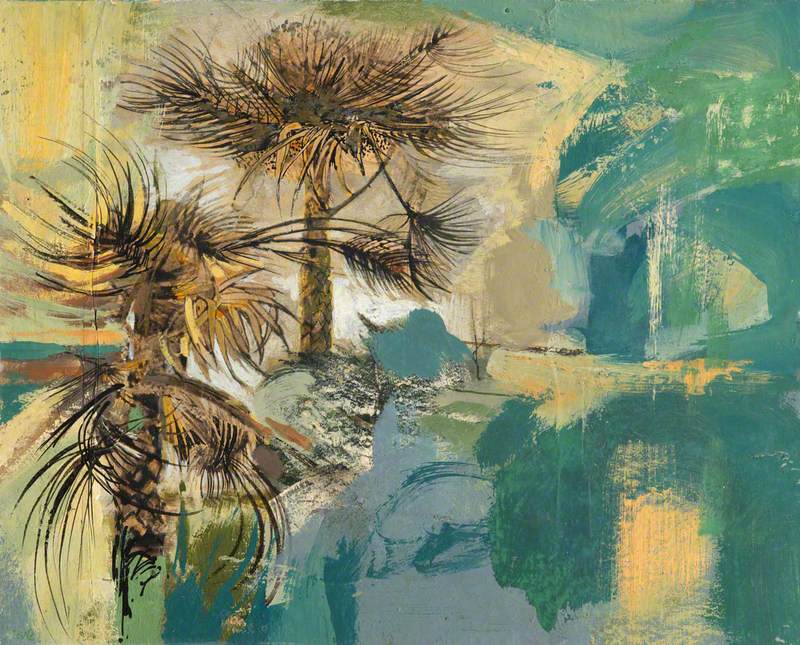 © the copyright holder. Photo credit: Aberystwyth University School of Art Museum and Galleries
Painter, mural artist, printmaker and teacher, born in Skipton, Yorkshire. He studied at Leeds College of Art, 1949–55, with Richard Macdonald and Keith Lucas, and in London. After serving as an education officer in the Army, taught 1959–71 at Haverfordwest Grammar School, then became Her Majesty's Inspector, Art, Wales, meanwhile lecturing for many years on history of art, part-time, at University College of Wales, Aberystwyth. Took part in many group shows, including RA, SEA and SWG, AIA and Howard Roberts Gallery, Cardiff. Many one-man shows, starting with Dillwyn Gallery, Swansea, mainly in Wales but also in America. Haverfordwest Civic Society held a commemorative retrospective for Ron Lowe in 1987 and there was an important exhibition at Newport Museum and Art Gallery in 1988.
Read more
His friend and fellow artist Maurice Sheppard called Lowe "a painter of great physical vigour; he revelled in paint, in its sensuous qualities and in the glow of its colour. His pictures are full of dazzling visual improvisations which are a proof of the intuitive, receptive and spontaneous in his imagination." Has work in many public collections, including WAC, CASW and University College, Swansea.
Text source: 'Artists in Britain Since 1945' by David Buckman (Art Dictionaries Ltd, part of Sansom & Company)