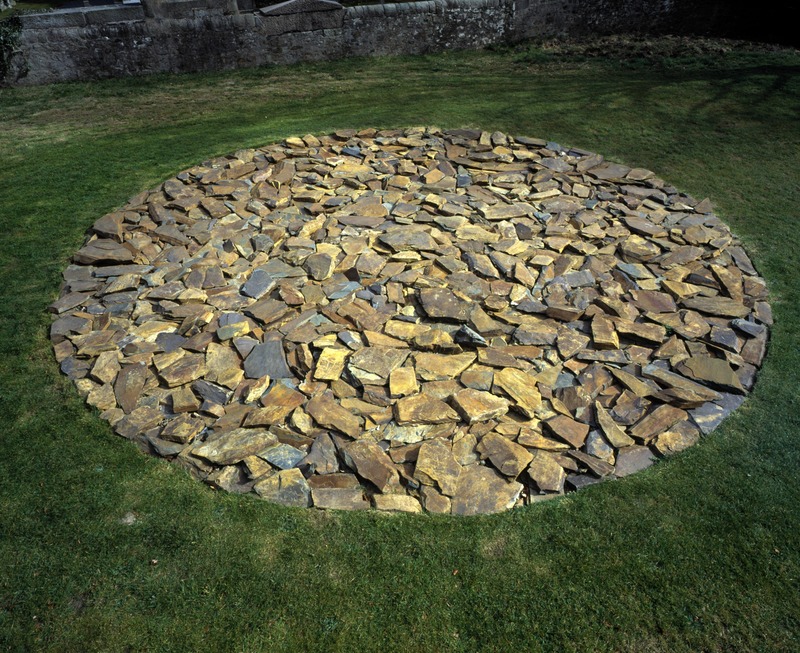 © Richard Long. All Rights Reserved, DACS 2022. Photo credit: National Galleries of Scotland
Sculptor, born in Bristol, where he continued to live. He studied at the local School of Art, 1962–6, then at St Martin's School of Art, 1966–8. Long was not a conventional sculptor making gallery objects but adopted landscape as his material. He went on a series of walks, including Ireland, the Himalayas and the Rio Grande, and recovered his impressions of them and identification with an area in photographs, maps and words. His Gobi Desert Circle was a photograph of a circle of stones made in Mongolia in 1966. He sometimes brought material from a walk into the gallery, as in his Delabole Bristol Slate Circle, 1997, commissioned by Bristol City Art Gallery. Other works included River Avon Mud Drawing, of which the artist said, "It was made by mud and water and gravity.
Read more
Part of the intellectual excitement is that it is a drawing but not actually made by my hand." Long had a one-man show at Whitechapel Art Gallery in 1971, the year he appeared in Guggenheim International Exhibition at Guggenheim Museum, New York, and the following year had a show at Museum of Modern Art there. Later shows included his representing Britain at Venice Biennale in 1976 and a series at Anthony d'Offay Gallery from 1979. Also notable were Tate Gallery, 1990; Hayward Gallery, 1991; Guggenheim, Bilbao, Spain, 2000; and Tate Gallery St Ives, 2002, the year after Long was elected RA. Haunch of Venison showed a wide range of Long's work in 2003. Considered by many to be the outstanding British artist of his generation, Long's work is not easily interpreted. He was Turner Prize winner in 1989. Tate Gallery, Arts Council and Bristol City Art Gallery hold his work.
Text source: 'Artists in Britain Since 1945' by David Buckman (Art Dictionaries Ltd, part of Sansom & Company)