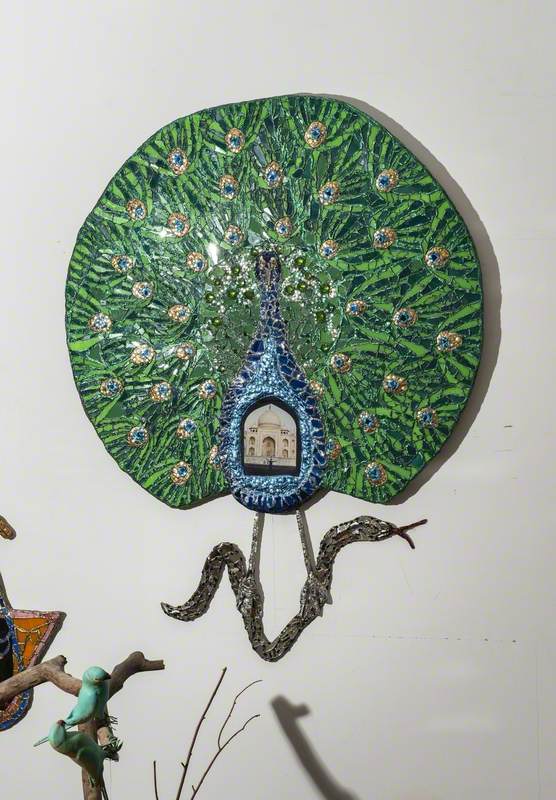 © the artist. Photo credit: Andrew Logan Museum of Sculpture
Versatile and enterprising designer and sculptor, born in Witney, Oxfordshire, who graduated with a diploma in architecture from Oxford School of Architecture, 1964–70. He "experienced Flower Power" in America in 1967. Did a hologram course at Goldsmiths' College, 1982. Logan was noted for projects carried out with a showbiz flair, who to some dressed weirdly, producing camp sculptures, costumes and jewellery out of mirror and lurid plastic, but who was undeniably dedicated and persistent. He said that his aim was "to bring joy and happiness to the world". Logan was most famous as the inventor and impresario of The Alternative Miss World, which began in 1972, the series continuing periodically at various venues. The first showing of the film The Alternative Miss World was held at the Odeon, Leicester Square, 1979, followed by the Cannes Film Festival, 1980.
Read more
Logan had his first solo show at New Art Centre, 1973. Other events in his multi-faceted career included Egypt Revisited, sound and light spectacular in a tent on Clapham Common, 1978; decorations for Zandra Rhodes' fashion show, 1980; Snow Sculpture World Championships, Finland, 1982; piece in Holographic Show, York Arts Festival, 1984; debut as a theatre designer, Wolfy, Ballet Rambert, Big Top, Battersea, 1987; retrospective, Museum of Modern Art, Oxford, 1991, with tour; Jewels Fantasy Exhibition, Victoria & Albert Exhibition, 1992; a show at Cheltenham Art Gallery, 2000–1, and watercolours at A&D Gallery, 2002, in the same year there sharing an exhibition with Duggie Fields. In addition, Norwich Gallery held Logan's Alternative Miss World Filmshow 1972 to 2002. In 1991 the Andrew Logan Museum of Sculpture opened at Berriew, Powys. In 1993 the National Portrait Gallery bought two portraits. Was based at The Glasshouse, Melier Place, where he also held exhibitions.
Text source: 'Artists in Britain Since 1945' by David Buckman (Art Dictionaries Ltd, part of Sansom & Company)