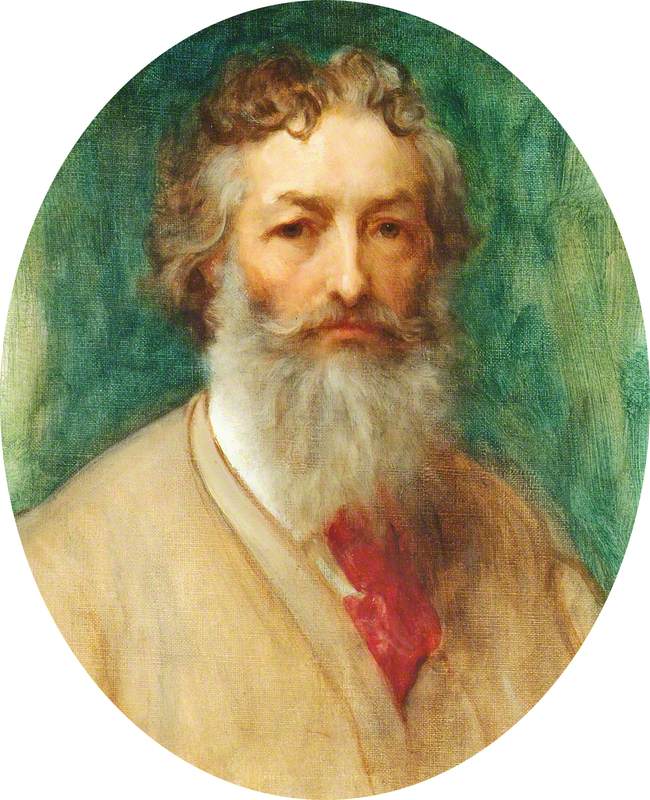 Photo credit: Aberdeen Art Gallery & Museums
(Born Scarborough, 3 December 1830; died London, 25 January 1896). English painter, draughtsman, and occasional sculptor, one of the dominant figures of late Victorian art. He travelled widely in Europe as a boy and his artistic education was gained principally in Frankfurt, Rome, and Paris. It was not until 1859 that he settled in England, but he had earlier made his name with Cimabue's Celebrated Madonna is Carried in Procession through the Streets of Florence, which he painted in Rome: it was exhibited at the 1855 Royal Academy exhibition and bought by Queen Victoria (it is now on loan from the Royal Collection to the National Gallery, London). In spite of this success, Leighton was for several years regarded as an alien presence in the British art world, but from the mid-1860s he enjoyed a level of worldly success that was matched perhaps only by Millais, his almost exact contemporary: he became president of the Royal Academy in 1878, was made a baronet in 1886, and a few days before he died was raised to the peerage, the first (and so far only) British artist to be so honoured. Intelligent, cultured, and of distinguished appearance (although rather austere), he was one of the chief adornments of London society.
Read more
His work included portraits and book illustrations, but he is best known for his paintings of classical Greek subjects, the finest of which are distinguished by magnificently opulent colouring as well as splendid draughtsmanship (Garden of the Hesperides, 1892, Lady Lever AG, Port Sunlight). As a sculptor his output was small (only three major works) but highly significant, for his Athlete Wrestling with a Python (1874–7) is regarded as the fountainhead of the New Sculpture movement. The finished life-size bronze is in Tate Britain and there are various smaller models and versions, including one in Leighton House, the sumptuously decorated house and studio he built in the fashionable Holland Park area of London, now a museum dedicated to him.
Text source: The Oxford Dictionary of Art and Artists (Oxford University Press)