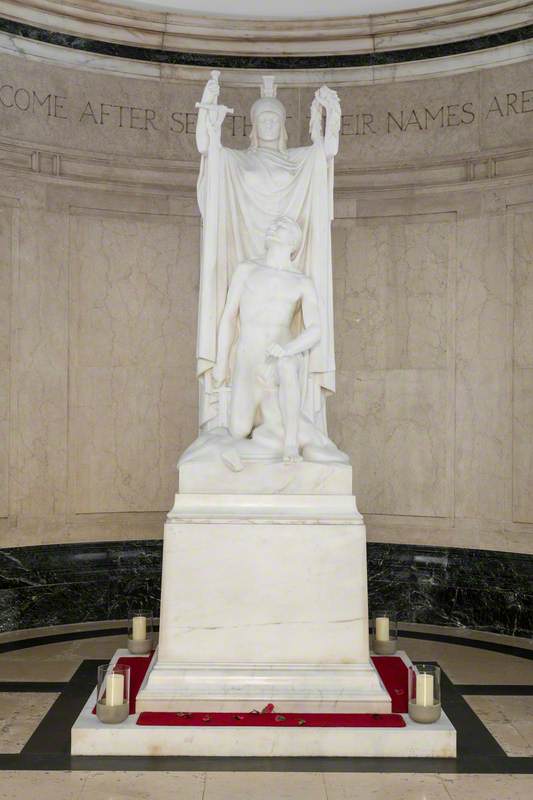 © the copyright holder. Photo credit: Stockport Heritage Services
Sculptor of monuments and portraits in metal and stone. Born and lived in London, son of the Sculptor Richard Ledward, he studied for over 10 years prior to World War I at Chelsea Polytechnic, Goldsmiths' College School of Art, the Royal College of Art and the Royal Academy Schools. In 1913 he won the Royal Academy Gold Medal and Travelling Studentship and the first British School in Rome Scholarship in Sculpture. Ledward became professor of sculpture at the Royal College, 1926–9, a year later being made member of the faculty of sculpture and of the council of the British School at Rome. Ledward exhibited at the RA from 1912, being elected RA in 1937 and a trustee, 1956–7. He was president of the RBS, 1954–6. As well as advising the Royal Mint, Ledward completed the Guards Division Memorial, in St James' Park, London, other war memorials in the provinces and overseas and the fountains in Sloane Square, London.
Read more
The Tate Gallery holds his work, which can be both graceful and majestic. In 2002, the Henry Moore Institute archive, Leeds, acquired a major collection of Ledward's drawings, covering his career from the Rome Scholarship until his death, enhancing the photographic archive of his work already held.
Text source: 'Artists in Britain Since 1945' by David Buckman (Art Dictionaries Ltd, part of Sansom & Company)