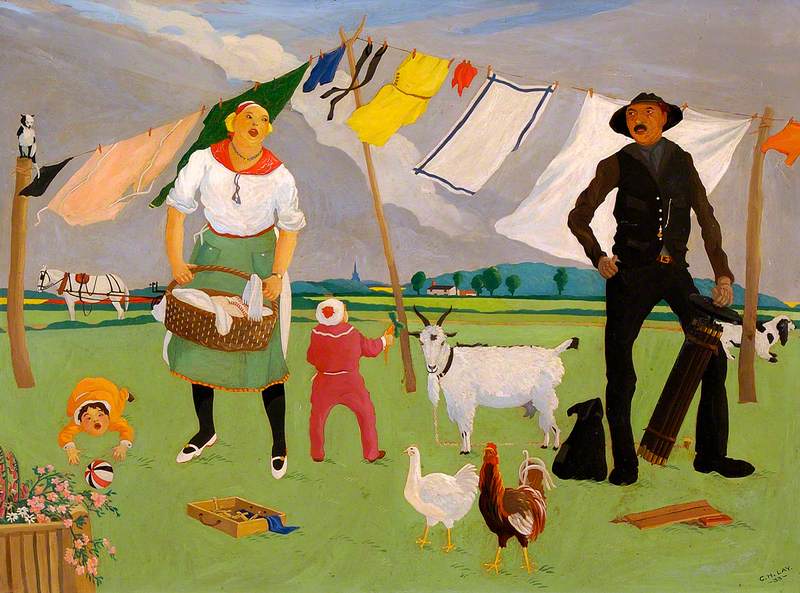 © the copyright holder. Photo credit: Colchester and Ipswich Museums Service: Ipswich Borough Council Collection
Architect, painter, printmaker and poet, born in Aldringham, Suffolk, where he lived a countryman's life. Was educated at Ipswich School before going to the Architectural Association, but was self-taught as an artist. Was elected to RIBA in 1912, becoming a fellow in 1925. Travelled to Belgium and the Netherlands and became a friend of the painter Frank Brangwyn, who influenced Lay's work. Was a prize winner in the Daily Mail's Village Sign Competition.
Read more
Published seven volumes of verse, books including Grotesques and Arabesques, 1928. Showed at RA, NEAC, RBA, RSA, AAA, extensively in the provinces and with Ipswich Art Club and Sole Bay Group. Work was included in A Look at British Printmakers 1860–1940, at Parkin Gallery, 1981. Christchurch Mansion, Ipswich, holds his Forecasting A Loss No 2, of 1933.
Text source: 'Artists in Britain Since 1945' by David Buckman (Art Dictionaries Ltd, part of Sansom & Company)