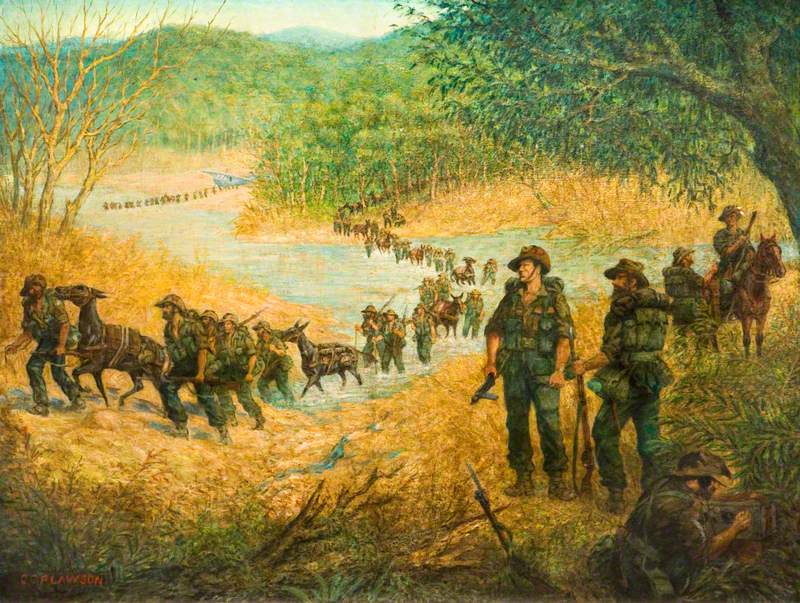 © the copyright holder. Photo credit: The Staffordshire Regiment Museum
Cecil Constant Philip Lawson, 'military painter and writer' (as he described himself) was born in Kensington on 20th September 1880, the son of Cecil Gordon Lawson, landscape painter, and his wife, Constance, eldest daughter of the sculptor John Birnie Philip. Constance was a specialist flower painter who exhibited at the Royal Academy and the Grosvenor Gallery, while her younger sister, Beatrice, married two well-known artists: the architect/designer Edward William Godwin and the painter James Abbot McNeil Whistler.
Read more
Cecil (junior) was educated at Charterhouse and spent many early years in Paris, where he exhibited at the Salon, played football for the Sporting Club de Paris and joined a circle of military artists, among whom he developed a distinctive style of painting. Shortly before the First World War, he enlisted as a private in the Westminster Dragoons, and for most of it served with them in the Middle East. He was at Gallipoli, then in Egypt and Palestine, including at the battle for Beersheba and the capture of Jerusalem in 1917. In 1918 the Dragoons were reassigned to the 2nd Army on the Western Front and became part of the Machine Gun Corps. In this Lawson was a corporal.

Although he was never an official war artist, the Imperial War Museum has a group of oil paintings by him of the Flanders battlefields, and others of the Second World War. By 1919 the Dragoons had demobilised but in March that year Lawson was commissioned Second Lieutenant in the Royal Army Service Corps, though he resigned in 1921 and was permanently in England from 1922.

As a painter, he exhibited at the International Society, the Royal Academy and the Glasgow Institute of Fine Arts between 1913 and 1923, but continued to do later oils, including Second World War subjects of particular regiments. Between the wars, Lawson began writing and illustrating (in watercolours) the History of Uniforms of the British Army, volumes of which were published throughout the 1940s and 1960s. (He also published and illustrated an anthology of naval songs and ballads in 1933.)

The fifth volume of History of Uniforms was at the publisher's when Lawson died aged 86 on 24th February 1967 in St Stephen's Hospital, Fulham: by that time, he was well advanced on the sixth. Lawson was a pioneer of serious research and publication on military uniforms. This included being very knowledgeable on Imperial and Commonwealth armies and foreign troops in British pay. In old age he took great interest in the creation of the National Army Museum and his library and archive of notes and sketches is preserved there. The IWM also has a good collection of his drawings of army uniforms and he was commissioned to do a large number for the Anne S. K. Brown Military Collection, Rhode Island (now part of Brown University).

When he died, a brief obituary in the Journal of the Society for Army Historical Research paid tribute to 'his dry sense of humour and irreverence for modern developments in warfare'. Lawson was twice married: first to Edith L. M. Fabris at Farnham, Surrey, in 1919, second to Phyllis E. Corben in Paddington, probably in 1941.
Text source: Art Detective