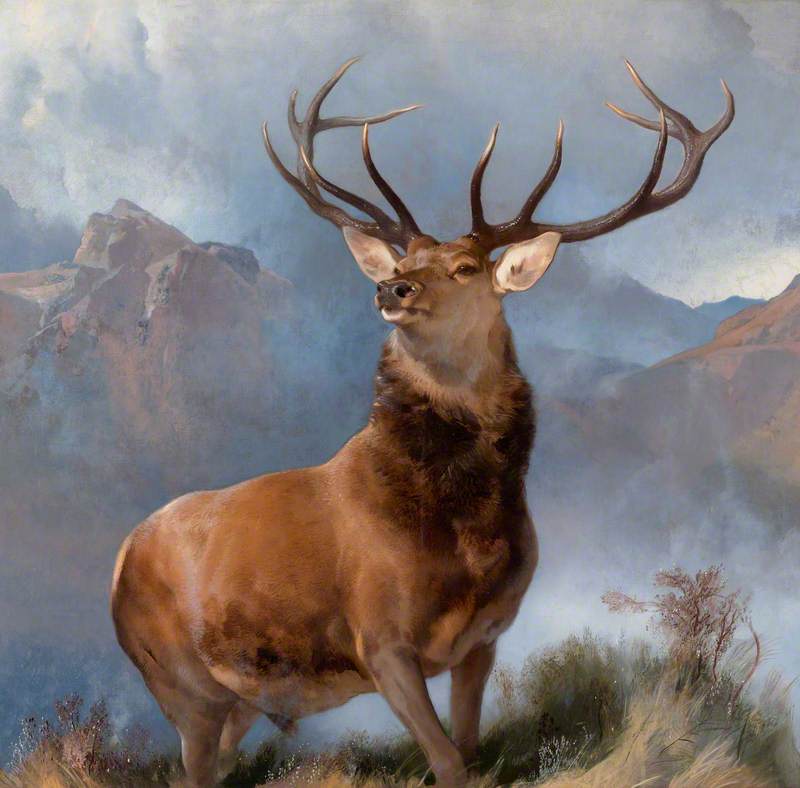 Photo credit: National Galleries of Scotland
(Born London, 7 March 1802 or 1803; died London, 1 October 1873). English painter, sculptor, and engraver, mainly of animal subjects. He was the son of an engraver and writer, John Landseer (1769–1852), and was an infant prodigy. His career was a story of remarkable social as well as professional success: he was the favourite painter of Queen Victoria (who considered him 'very good looking although rather short') and his friends included Dickens and Thackeray.
Read more
The qualities in his work that delighted the Victorian public, however, subsequently caused his reputation to plummet, for although he had great skill in depicting animal anatomy, he tended to humanize his subjects to tell a sentimental story or point a moral. His most familiar works in this vein include The Old Shepherd's Chief Mourner (1837, V&A, London), Dignity and Impudence (1839, Tate, London), and The Monarch of the Glen (1850, Diageo plc). Other paintings by Landseer have been attacked for their cruelty (he made many visits to the Scottish Highlands and frequently painted scenes of deer-hunting).

Apart from animal subjects, he also painted portraits and historical scenes. Although he had no previous experience as a sculptor, in 1858 he was commissioned to make four huge bronze lions for the base of Nelson's Column in Trafalgar Square, London; they were cast by his friend Marochetti and unveiled in 1867. By this time Landseer's health had broken down (it was for this reason that he declined the presidency of the Royal Academy in 1865), and in his last years he suffered from bouts of madness, aggravated by alcohol. His brother Thomas (1798–1880) was an engraver, whose prints played a great part in popularizing Edwin's work. Another brother, Charles (1800–79), bequeathed £10,000 to the Royal Academy to found Landseer scholarships.
Text source: The Oxford Dictionary of Art and Artists (Oxford University Press)