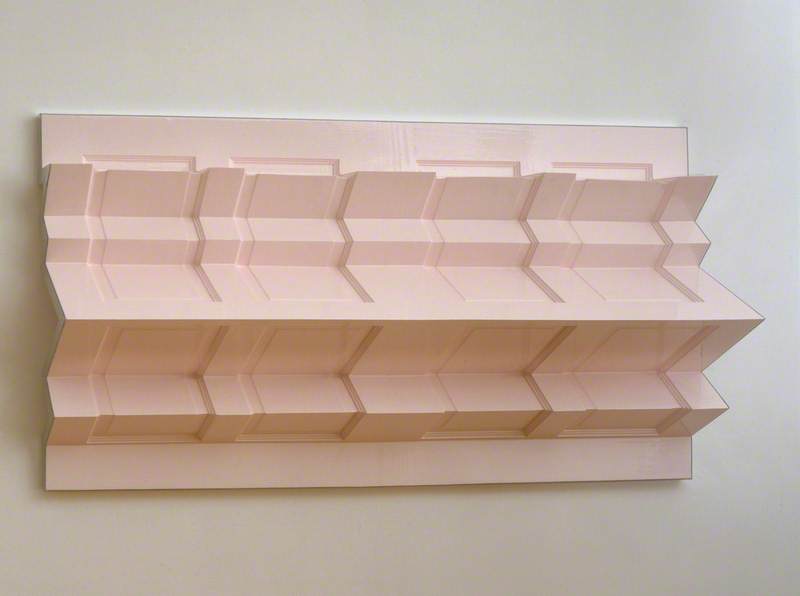 © Jim Lambie. All Rights Reserved, DACS 2022. Photo credit: Government Art Collection
Versatile and enterprising artist, as in his solo show Zobop, at The Showroom, 1999, in which, using a selection of lo-fi materials, Lambie created a psychedelic vinyl floor shaped by gallery features. The audience crossed it to view sculptures made from such materials as glue sticks, balloons, tape, cigarettes and socks. Lambie was born and lived in Glasgow, where he gained a fine art honours degree from the School of Art, 1990–4. Other exhibitions included Mary Redmond & Jim Lambie, Assembly Gallery, Glasgow, 1995; Sick Building, Globe Gallery, Copenhagen, Denmark, 1996; and Two Up, Property Gallery, Glasgow, 1998. In that year Lambie had a residency at Triangle, Marseilles, France, with a show there at La Friche. He won a Paul Hamlyn Visual Arts Award, 2000.
Read more
Lambie was also included in the Hayward Gallery tour The British Art Show 5, 2000–1. In 2003 Lambie had solo exhibitions at Inverleith House, Royal Botanic Garden, Edinburgh, and at Modern Art, Oxford, the year he was included in Days Like These, at Tate Britain. The National Gallery of Modern Art in Edinburgh holds his work.
Text source: 'Artists in Britain Since 1945' by David Buckman (Art Dictionaries Ltd, part of Sansom & Company)