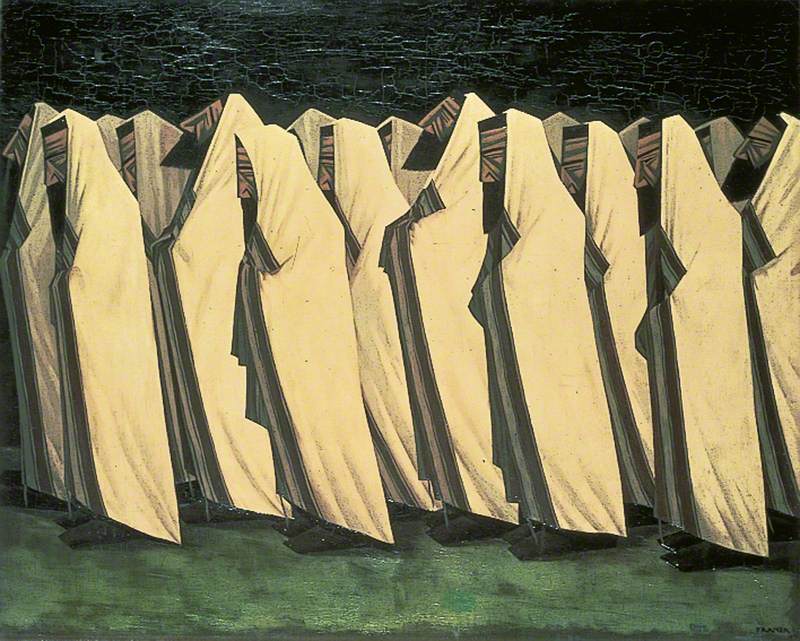 © estate of John David Roberts. By courtesy of the William Roberts Society. Photo credit: Bridgeman Images
Painter, draughtsman and printmaker, born in Klincy, Ukraine. His father Max was a court painter, as was his uncle Boris. Kramer arrived in England in 1900, settling in Jewish colony in Leeds, and he was to remain faithful to the city. After a period at sea and working in northern towns, where he attended evening classes at Manchester School of Art, in 1907 Kramer returned to Leeds, attending similar classes at its School of Art. From 1908–11 he studied there full-time on a scholarship, Sir Michael Sadler becoming his patron, then from 1913–14 studied at Slade School of Fine Art. In 1915 Kramer had a solo show with Mathews & Brooke, Bradford, was invited to show with Vorticists in London and was elected LG. Kramer's sister Sarah married the artist William Roberts.
Read more
Kramer began to create a name as a Yorkshire-based artist, showing with Fred Lawson at Leeds School of Art in 1916, also having a solo show at Bradford Arts Club. The inter-war years saw Kramer consolidating his reputation with shows in Yorkshire and London. In 1959 he was elected president of Leeds Fine Arts Club, in 1960 having a retrospective at Leeds City Art Gallery. Six years after his death the City of Leeds Branch College of Art was renamed Jacob Kramer College of Art. Later shows included Parkin Gallery, 1973, Belgrave Gallery, 1990, centenary show at Leeds University Art Gallery then works on paper, Boundary Gallery, 2000. The Tortoise and the Hare, works by Kramer and his brother-in-law William Roberts, was a Ben Uri Gallery touring show in 2003. Kramer was a fine draughtsman and was capable of producing memorable, hieratic images. The sculpture of him by Epstein is in Tate Gallery, which also holds Kramer's work, as do Victoria & Albert Museum and British Museum.
Text source: 'Artists in Britain Since 1945' by David Buckman (Art Dictionaries Ltd, part of Sansom & Company)