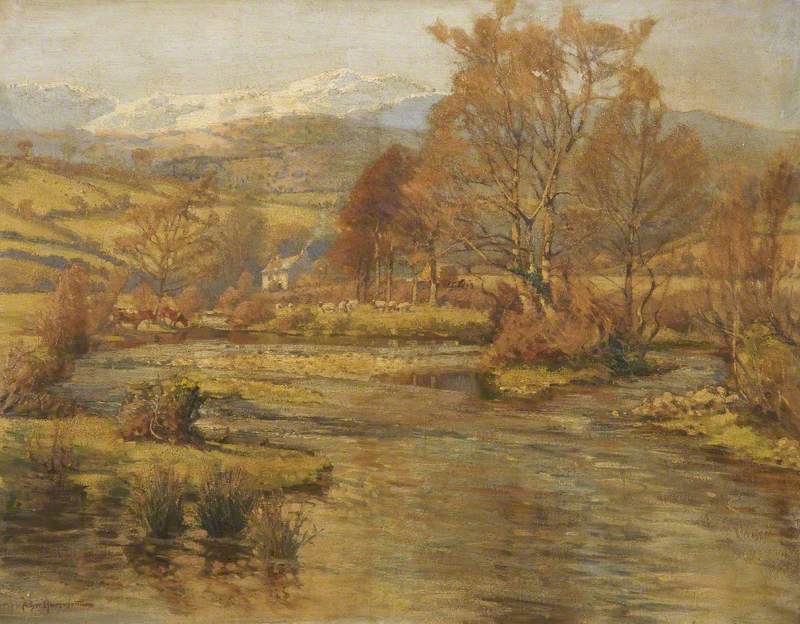 © the copyright holder. Photo credit: Stockport Heritage Services
Landscape painter, especially in watercolour on a large scale, and etcher; born in Arnold, Nottinghamshire. Studied at Nottingham School of Art under Herbert Wilson Foster, at Westminster School of Art, in France and Italy. Knighton-Hammond was a member of leading watercolour societies in France and America, and was the only English artist to have been elected to the American Watercolour Society, New York, apart from Sir William Russell Flint.
Read more
In Britain showed at RA, ROI, NEAC, RCamA, RBA, Fine Art Society and RSW. Tate Gallery, Musée du Jeu de Paume, Paris, galleries in New Zealand, South Africa and Yugoslavia as well as many British provincial galleries hold his work. He found watercolour a "nervy" business and disliked being overlooked while painting, yet Knighton-Hammond established an international reputation, described by Augustus John as "the greatest English painter in watercolour of our time". Like John he was a romantic, who travelled extensively to paint. Finally returned to live in Seaborough, Devon. Retrospective at Upper Grosvenor Galleries, 1971.
Text source: 'Artists in Britain Since 1945' by David Buckman (Art Dictionaries Ltd, part of Sansom & Company)