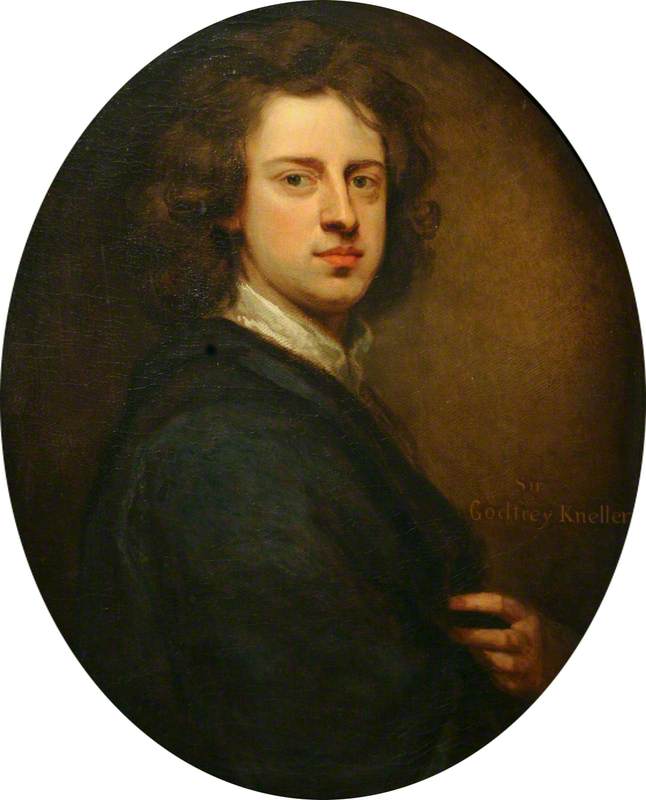 Photo credit: Government Art Collection
(Born Lübeck ?8 August 1646; died London, 26 October 1723). German-born painter who settled in England and became the leading portraitist there in the late 17th and early 18th centuries. He studied in Amsterdam under Bol, a pupil of Rembrandt, and later in Italy, before moving to England, probably in the mid-1670s. The opportune death of serious rivals (notably Lely in 1680) and his own arrogant self-assurance enabled him to establish himself as the dominant court and society painter by the beginning of the reign of James II (1685). Following the accession of William III and Mary II in 1689 he was appointed their principal painter jointly with John Riley (becoming sole bearer of the title when Riley died in 1691), in 1692 he was knighted, and in 1715 he was created a baronet by George I, an unprecedented honour for a painter.
Read more
Kneller's output was vast and he made extensive use of assistants. Sitters were required to pose only for a drawing of the face and efficient formulas were worked out for the accessories. He is said sometimes to have accommodated as many as fourteen sitters in a day, and this kind of productivity has inspired some scathing criticism: in 1815 Northcote described 'the great mass of his works' as 'hasty slobbers…scarcely fit to be seen'. It is undeniable that many pictures turned out from his studio were slick and mechanical (and the heavy wigs then fashionable make for great monotony in male portraits), but Kneller was capable of work of much higher quality when he had a sitter to whom he especially responded: outstanding examples are The Chinese Convert (1687, Kensington Palace, London) and Matthew Prior (1700, Trinity College, Cambridge). Many other examples of his work, including the portraits of the Kit-Cat Club, are in the National Portrait Gallery, London.

Ellis Waterhouse writes that 'he had a wonderfully sharp eye for character, could draw and paint a face with admirable economy, and maintains, even in his inferior work, a certain virility and down-to-earth quality which is refreshing after the languishments of the age of Lely.' Nevertheless, the influence of his mass-produced work was stultifying. He was the last foreign-born artist to dominate English painting, but it needed a Hogarth and a Reynolds to break through the conventions he had popularized.
Text source: The Oxford Dictionary of Art and Artists (Oxford University Press)