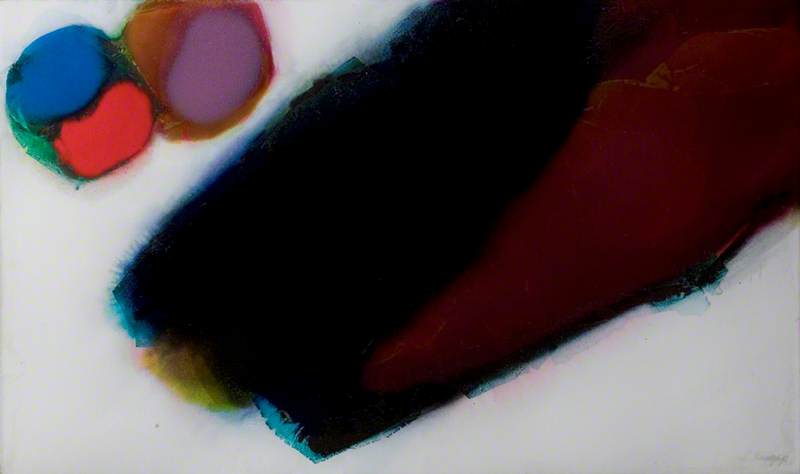 © the artist's estate. Photo credit: Nottingham City Museums & Galleries
Painter, born in Biłgoraj, Poland, who settled in England after World War II. Imprisonment in a Siberian labour camp in 1939 and service as a Royal Air Force Spitfire pilot, 1942–5, had a lasting effect on his artistic development. Studied at Central School of Arts and Crafts, Slade School of Fine Art, 1947–50, after initial education in Poland. Had first solo show at London Gallery in 1947, then exhibited widely, including France, Germany, America and Brazil. He was given a retrospective at Warsaw Gallery of Zachęta in 1974; in 1999 shows at the Polish Cultural Institute and Whitford Fine Art traced Knapp's course through a type of Surrealism, freeform abstraction and Pop Art influences. Although he established a reputation for subtle spraygun pictures, Knapp was also noted for his painting in glass on steel and for his paintings on enamel, fired in a kiln developed by him.
Read more
Work held by many international museums, including Victoria & Albert Museum and Museum of Modern Art in New York. Toruń University, in Poland, holds his large mural devoted to Nicolaus Copernicus. Also fulfilled many commissions for large murals, one for the Alexander Stores, in New York, having to be assembled in an aircraft hangar. Two days after overseeing the reinstallation of his 1960s Heathrow murals in the Richard Rogers Transit Building, and three days after he completed The Battle of Britain mural for the Polish metro, in Warsaw, Knapp had a heart attack and died in his studio. Knapp's early autobiography, The Square Sun, was published in 1956. Lived in London, then in Wormley, Surrey.
Text source: 'Artists in Britain Since 1945' by David Buckman (Art Dictionaries Ltd, part of Sansom & Company)