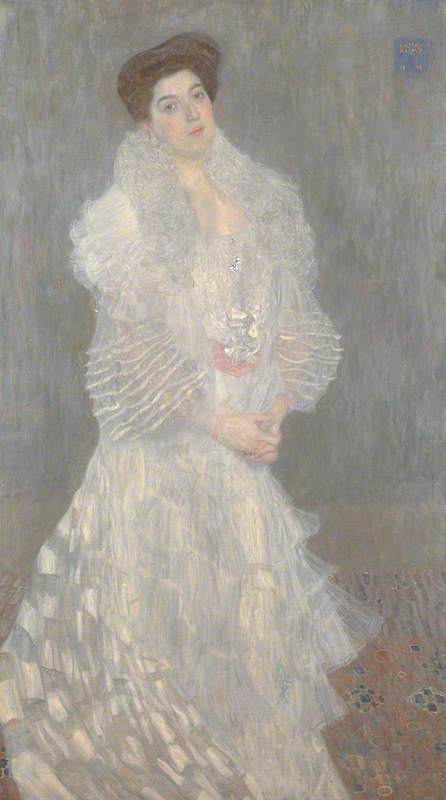 Photo credit: The National Gallery, London
(b Baumgarten, nr. Vienna, 14 July 1862; d Vienna, 6 Feb. 1918). Austrian painter, draughtsman, and designer, one of the leading figures in one of the most exciting epochs of Vienna's cultural history. Early in his career he was highly successful as a painter of lavish ornamental schemes in the grandiose tradition of Makart, whose staircase decoration in the Kunsthistorisches Museum in Vienna he completed after Makart's death in 1884. In spite of his official academic successes, Klimt was drawn to avant-garde art, and his work was influenced by Impressionism, Symbolism, and Art Nouveau. Discontent with the conservative attitudes of the Viennese Artists' Association led him and a group of friends to resign in 1897 and set up their own organization, the Sezession, of which he was elected president.
Read more
In a short time Klimt thus went from being a pillar of the establishment to a hero of the avant-garde, and this new role was confirmed when his enormous allegorical mural paintings for Vienna University were denounced as nonsensical and pornographic. (Klimt was given the commission in 1894 and abandoned it in 1905; the paintings—entitled Jurisprudence, Medicine, and Philosophy—were destroyed by fire in 1945.) Although official commissions dried up after this, he continued to be much in demand with private patrons, as a portraitist as well as a painter of mythological and allegorical themes. He was highly responsive to female beauty (he was a great womanizer) and in both his portraits and his subject pictures he stresses the allure and mystery of womanhood. Notable examples are the magnificent full-length portrait of his sister-in-law and close friend Emilie Flöge (1902, Historisches Mus. der Stadt, Vienna) and Judith I (1901, Österreichische Galerie, Vienna), one of the archetypal images of the femme fatale. Characteristically, the figures in Klimt's paintings are treated more or less naturalistically but embellished—in the background or their clothing—with richly decorative patterns recalling butterfly or peacock wings, creating a highly distinctive style of extraordinarily lush sensuality. The erotic aspect of his work is even more pronounced in his drawings, most of which were done as independent works rather than as preparatory studies for paintings: typically they show naked or semi-naked women in a state of sexual arousal. In addition to paintings and drawings, Klimt did a good deal of design work for the Wiener Werkstätte. Most of this was fairly modest, but the great exception was the major commission of his later years—the mosaics (executed 1909–11) for the dining room of the Palais Stoclet in Brussels, a luxury home built at huge expense for the young Belgian industrialist Adolphe Stoclet, who had just inherited the family fortune. Klimt had a great reputation in his day and was influential on some of his Viennese contemporaries, notably Kokoschka and Schiele, but his work was too personal to find much of a following.
Text source: The Oxford Dictionary of Art and Artists (Oxford University Press)