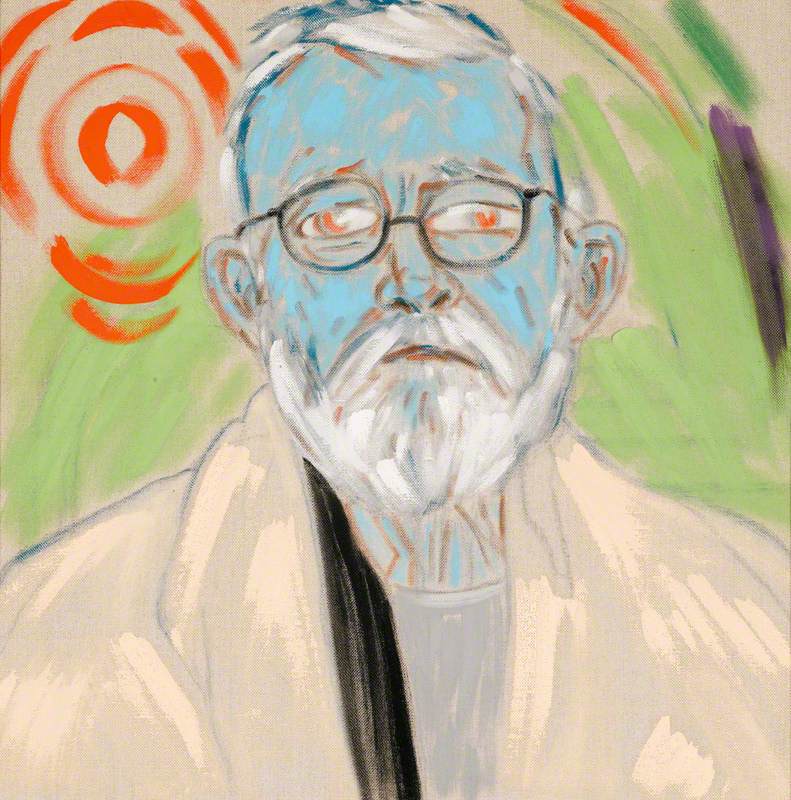 © the estate of R. B. Kitaj. Photo credit: The Ingram Collection of Modern British and Contemporary Art
(b Cleveland, Oh., 29 Oct. 1932; d Los Angeles, 21 Oct. 2007). American painter, printmaker, and draughtsman, active mainly in England, where he was one of the most prominent figures of the Pop art movement. Before studying at the Royal College of Art in 1959–61 Kitaj had travelled widely (he was a merchant seaman, then served in the US army) and his wide cultural horizons gave him an influential position among his contemporaries (he studied with Hockney and Allen Jones), particularly in upholding his preference for figuration in opposition to the prevailing abstraction. After a visit to Paris in 1975 he was inspired by Degas to take up pastel, which he used for much of his subsequent work. Late 19th-century French art was a major source of inspiration, as was a preoccupation with his Jewish identity, and he said: 'I took it into my cosmopolitan head that I should attempt to do Cézanne and Degas and Kafka over again, after Auschwitz.
Read more
' Unlike the majority of Pop artists, Kitaj had relatively little interest in the culture of the mass media and evolved a multi-evocative pictorial language, deriving from a wide range of visual and literary sources—indeed he declared that he was not a Pop artist. Typically his work uses broad areas of flat colour within a strong linear framework, creating an effect somewhat akin to comic strips. Although he enjoyed a very prosperous career, some critics found his work pretentious and wilfully obscure. In 1994 a retrospective exhibition at the Tate Gallery, London, was (in the words of his obituary in The Times) 'the most violently attacked solo show in living memory'. His second wife, the American artist Sandra Fisher (1947–94), died of a brain haemorrhage soon after the exhibition ended, and Kitaj caused controversy by blaming this on his critics: 'They tried to kill me and they got her instead.' He returned to settle in the USA in 1997. His death ten years later came by suicide.
Text source: The Oxford Dictionary of Art and Artists (Oxford University Press)