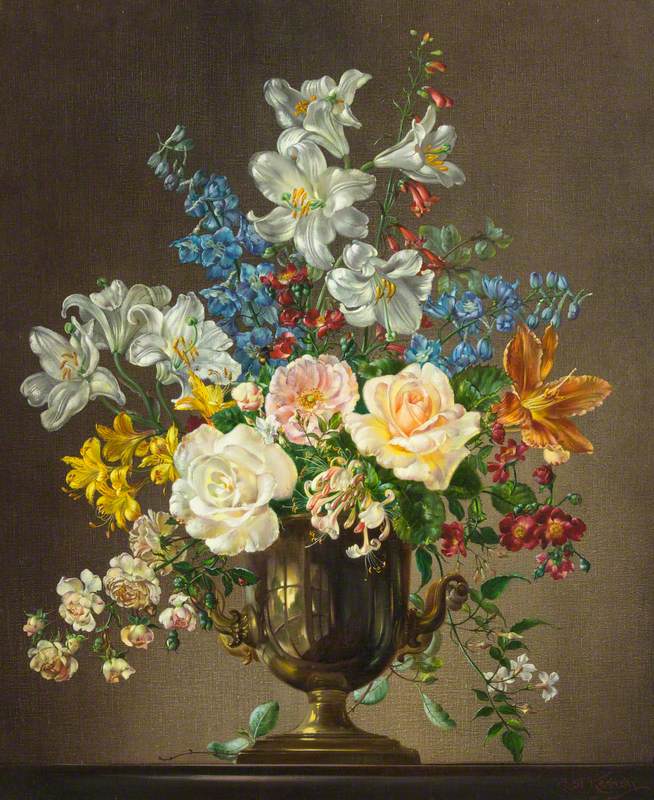 © the copyright holder. Photo credit: Merthyr Tydfil Leisure Trust
Painter in oil, noted for his meticulous pictures of flowers, based on arrangements by his wife Winifred, a ladybird being a common feature. He was the grandson of an artist who had worked alongside Corot in France, Cecil's father was the painter and designer Thomas Robert Kennedy, his brother the artist Thomas Kennedy. He was born in Leyton, Essex, and studied art in London, Paris, Antwerp and Zürich. During Army service on the continent in World War II, Kennedy was able to meet Flemish painters and study their and Dutch painters' work first-hand. He showed at RA, RSA, RHA, Fine Art Society, Paris Salon (where he won a Silver Medal in 1956, a Gold in 1970), the provinces and elsewhere abroad. Queen Mary, the Duke of Windsor, the Astors and newspaper magnate Lord Thomson of Fleet were among his patrons.
Read more
Public galleries in Rochdale and Merthyr Tydfil hold examples. Owing to advanced age, Kennedy finished painting around 1993. Lived in St Albans, Hertfordshire.
Text source: 'Artists in Britain Since 1945' by David Buckman (Art Dictionaries Ltd, part of Sansom & Company)