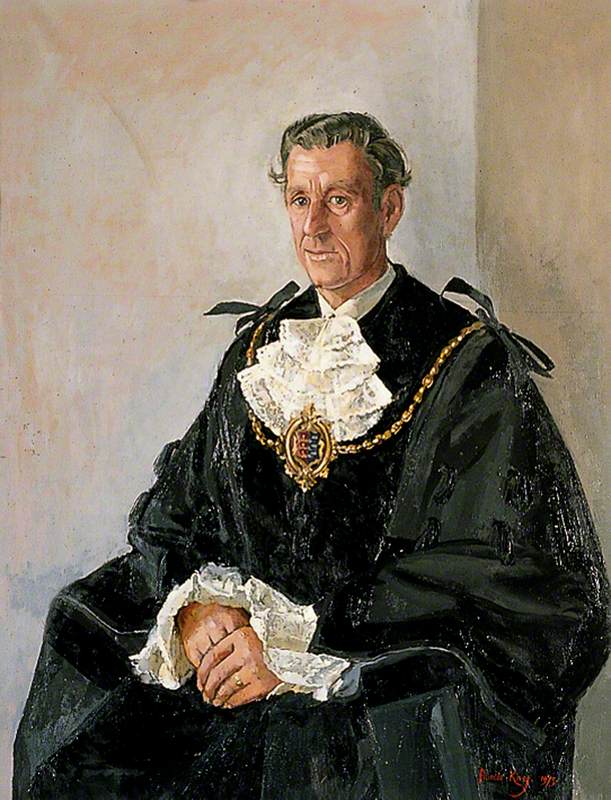 © the artist. Photo credit: Sandwich Guildhall
Painter and draughtsman – notably still life and portraits – designer, illustrator, teacher and writer on art, born in Isle of Sheppey, Kent. She studied for four years at Canterbury College of Art under Christopher Alexander, Alec Vickerman and Eric Hurren, while working part-time for two years as studio assistant to John Ward (she was the model for his illustrations for Laurie Lee's Cider with Rosie). While at Canterbury she exhibited at RA in 1960. Concentrated also on textile design, winning a Sanderson wallpaper competition and having work shown at the Design Centre, and studied design at Royal College of Art for three years. After graduation she launched a freelance practice, producing paper and fabric designs. In mid-1970s, after marriage and children, Kay resumed painting and was eventually elected to RWS, RBA and NEAC.
Read more
She had a series of solo shows, galleries including Medici, Chris Beetles, Catto and Richard Hagen in Broadway. Fantin-Latour, Chardin and Ingres were key influences. Taught part-time at School of Architecture, Canterbury, and wrote for Leisure Painter magazine. From 1988 Kay illustrated books, notably for children. Lived in Cliftonville, Kent.
Text source: 'Artists in Britain Since 1945' by David Buckman (Art Dictionaries Ltd, part of Sansom & Company)