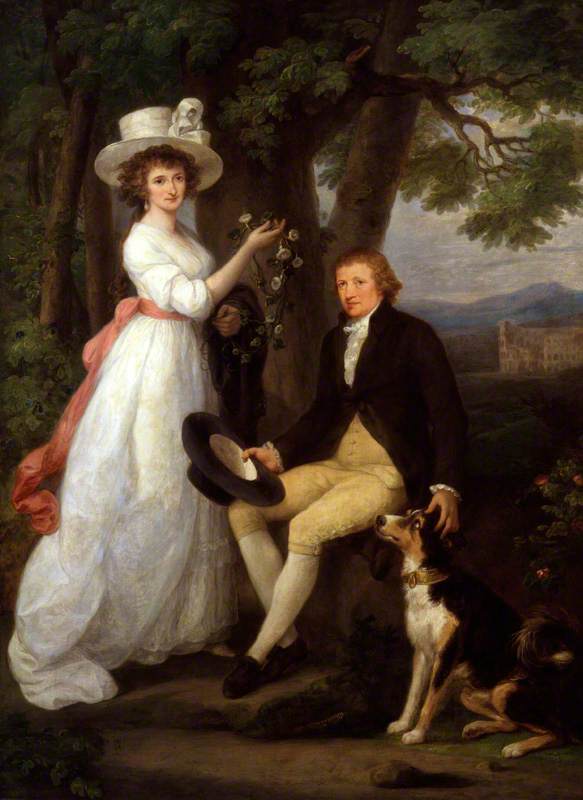 Photo credit: National Portrait Gallery, London
(Born Chur, 30 October 1741; died Rome, 5 November 1807). Swiss painter, active mainly in Italy and England. From an early age she travelled with her father, the painter Joseph Johann Kauffmann (1707–82), in Switzerland and Italy, and she formed her style in Rome. In 1766 she moved to London, where her work and her person were vastly admired. A foundation member of the Royal Academy in 1768, she was a close friend of the president, Sir Joshua Reynolds, their relationship giving rise to gossip and to a satirical picture by Nathaniel Hone.
Read more
(Canova, Dance, Goethe, and Winckelmann were among the other distinguished men who were charmed by her.)

Kauffmann began in England as a fashionable portraitist, but then devoted herself more to historical scenes and also did decorative work for Robert Adam and other architects. Although her work owes much to the Neoclassical tradition, it has a prettiness that can be described as Rococo. At its best it has great charm, but it can be rather insipid, and she was much more successful with ladylike decorative vignettes than with scenes from Homer or Shakespeare. In 1767 she married an unscrupulous adventurer from whom she was quickly estranged. Following his death in 1780 she married the decorative painter Antonio Zucchi (1726–95) and settled with him in Italy, where she continued her successful career, mainly in Rome.
Text source: The Oxford Dictionary of Art and Artists (Oxford University Press)